Windows operating system comes with a built-in defragmentation tool that is good but has limited features. Hence, we use a third-party app to defrag the drive to increase the performance.
Defragmentation Tool
In this post we will see 9 most popular apps that can increase the speed of your computer.
DiskTuna (Free)
DiskTuna software can defrag and optimize the hard drive that increases performance and boost overall speed of the computer. It is very smart and uses the official Windows Defrag API for moving around files. It has safe mode, explorer integration, scheduling tasks, etc. It also features VSS safe-mode to reduce interaction between defragmentation and shadow copies and a thermal monitor to protect your hard disk from overheating. It supports the latest Windows 10 operating system.
Smart Defrag (Free)
Smart Defrag is also specially build for optimizing the hard disk. It defrags the normal files as well as the Windows Store apps. This freeware can defrag the specific boot files in the system disk are not allowed to be moved safely while Windows is running, which causes a slower and slower system startup. The Boot-time defrag feature can easily handle this job for you that help safely defrag files on HDD. You can also customize defrag specified files during system boost.
MyDefrag (Free)
MyDefrag was earlier known as JKDefrag, which organizes the files into zones, such as directories, Windows files, files used while booting, regular files, and rarely used files. MyDefrag organises the files which are often used by Windows are placed at the beginning of the hard disk and the files / folders that are commonly are placed separately. This mechanism results in a dramatic speed increase, thereby allowing your PC to function efficiently. This freeware can also handle USB disks/sticks and floppies.
Wise Disk Cleaner (Free)
Apart from the defragmentation of the hard disk, the Wise Disk Cleaner also cleans the hard drive. Means, before defragmenting, clean the hard drive then do the defragmention for the best results. It allows you to defrag all the disk drives at once, or you can also prefer one by one. Once you are leaving your PC, you can set the option to shut down the PC after disk defrag.
Iobit Smart Defrag (Free)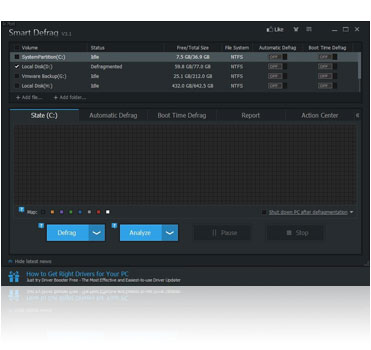 Iobit Smart Defrag is based on the IObit latest disk defrag engine and "Boot Time Disk Defrag" technology. It does not only provides defragmentation app but also intelligently streamlines your files based on using frequency, thus accelerating disk speed for faster data access. It also offers junk files cleaning to save more disk space. It also supports WIndows 10 latest operating system.
Defraggler (Free)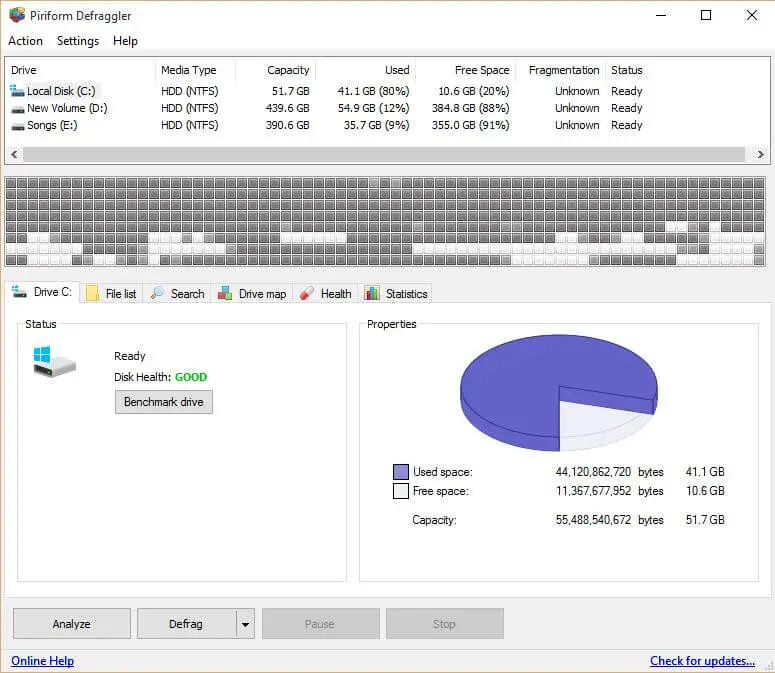 Defraggler supports defragmenting the individual files, means don't need to defrag the whole drive if it is not needed. This tool allows you to defrag system files at boot-time. It automatically analyses the whole hard-disc and shows the status of the drive, used space, free space and capacity of the particular drive.
Disk SpeedUp (Free)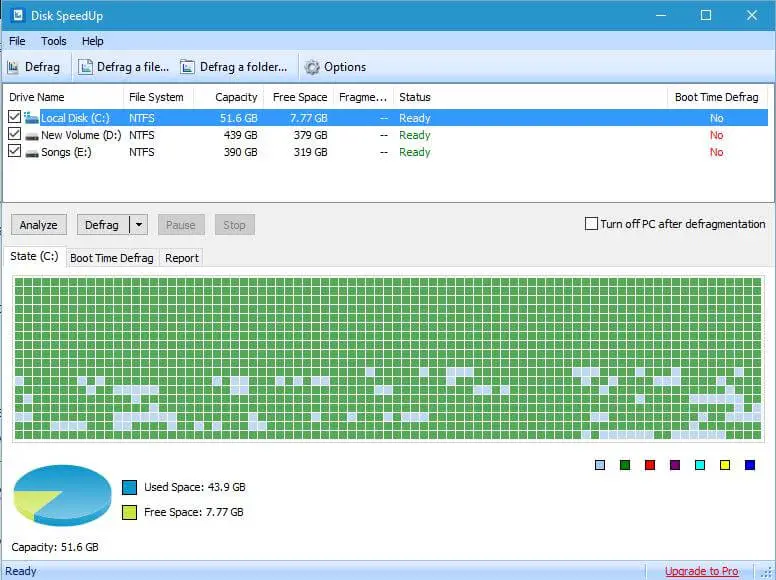 Disk SpeedUp comes with a few basic functions like, defrag the disk, defrag a file, defrag a folder, analyze the disk, defrag and optimize, automatic shutdown the PC when defrag completed, boot time defrag etc. It allows you to schedule the program on a daily, weekly or monthly basis. It can automatically clean the recycle bin too.
SuperEasy Live Defrag (Free)
SuperEasy Live Defrag is another popular free app over the internet that lets you defrag the hard drive easily. It registers itself as a disk defragmenter process and keeps on running in the background of Windows operating systems. The app sits in the background and keep on checking the disk fragmentation without interfering with your work. As soon as it finds that a drive has been fragmented and needs to be optimized, it starts defragmenting without prior notice.
Advanced SystemCare (Free)
Iobit Advanced SystemCare does not only defrag the hard drive, but it also includes some basic tools like Spyware removal, registry cleaner, privacy sweep, junk files cleaner, internet booster, shortcuts fixer, registry defragment, system optimizer, security defense, disc scan, vulnerability fixer, disk optimizer, etc. Before optimizing the hard disk, it takes care of unnecessary files.