To maintain your Windows PC at the top level, you have to be more careful. It is impossible to keep your computer always in good shape without third party tools. There are some basic maintenance tools that are inbuilt in the operating system, but we prefer third-party tool for advanced features.
Iobit Advanced SystemCare is a freeware Windows optimization tool that has many inbuilt apps to enhance your PC performance like Spyware removal, registry cleaner, privacy sweep, junk files cleaner, internet booster, shortcuts fixer, registry defragment, system optimizer, security defense, disc scan, vulnerability fixer, disk optimizer, etc.
Advanced SystemCare automated options to keep your PC in an optimized condition. The free utility prevents your computer from slowing down and helps you protect, repair and optimize it whenever needed. It takes a one-click approach to keep your PC error-free and smooth than ever.
Once you select the options under Clean & Optimize, press the SCAN button to start cleaning and optimizing the device.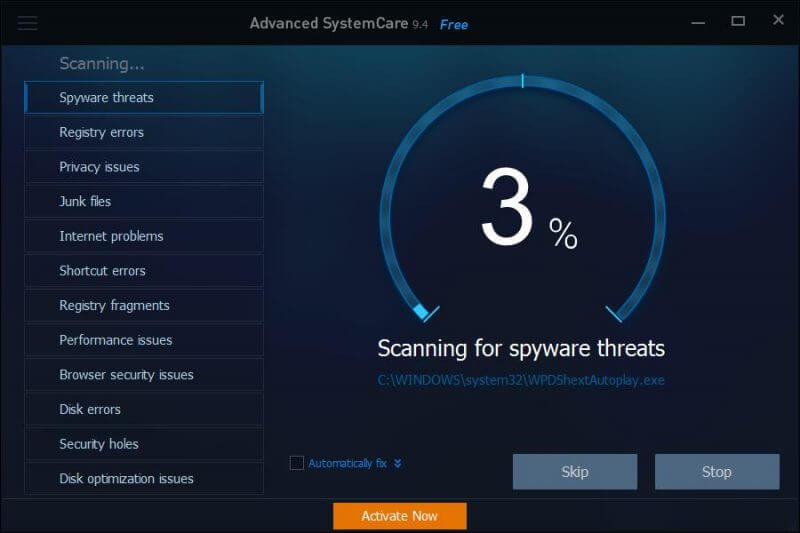 It will scan your operating system for error and security errors and will represent with a number of errors. Clicking on Automatically fix check mark will fix the errors.
Apart from the automatically fix option, you can choose from auto fix & shut down PC, auto fix & restart PC, auto fix & hibernate PC, auto fix & sleep PC. It will fix the errors and process further with selected option.
Under Speed Up tab, you can turn ON turbo boost to stop apps / services and release RAM to boost PC. With the help of Startup Accelerate, you can stop unnecessary startup programs. Deep Optimization let you fully optimize the system, RAM, Internet, and HD settings. There is also an App/Toolbar cleaner, which will suggest you to uninstall the app/toolbar which is not used over two months.
Protect tab protects your homepage and default search engine from malicious modification. It also protects the DNS settings; enhance internet surfing, and reinforce the security of Windows 10 to avoid being hacked by trojans or hackers.
Advanced SystemCare is very simple to use and has all the required tools inside the app to speed up your PC. It is compatible with Windows XP, Vista, 7, 8 and Win 10. You can download this free software from here.