Iobit Smart Defrag is a free defragmentation tool for the Windows operating system; it works with all major OS of Win, including Windows 2000, XP, Vista, Win 7, Win 8, Win 8.1, and Win 10. Wise Disk Cleaner, SuperEasy Live Defrag, Smart Defrag, and MyDefrag are other popular apps to defrag the hard disk to enhance the computer's performance.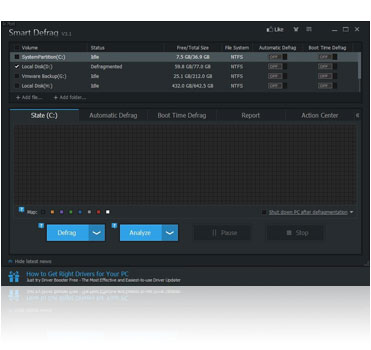 Every Windows PC comes with defragmenting software, but that is not so useful because it works slowly, and everybody wants to defrag the computer for better performance.
What is de-fragmentation?
In computer storage, fragmentation is a phenomenon in which storage space is used inefficiently, reducing capacity or performance and often both of the Hard disks. The exact consequences of fragmentation depend on the specific system of storage allocation in use and the particular form of fragmentation. In many cases, fragmentation leads to storage space being "wasted."
Hard-disk is just like a blank house; a novice person can put any item in a haphazard manner. What you will do if you have put the various items in the same room; exactly you have to arrange the items so that you can put more and more items in the same house.
Same here with hard disk storage. When you paste or create any item in your hard, it will be kept anywhere in the whole space. Like this, the hard disk will be out-of-storage in a short period without actually having out-of-storage. Hence, when you segregate these files, you will again find some free spaces are still available on your hard disk. That's why de-fragmentation is required.
Also, when you put items scattered, then to find out a particular item is too difficult, but when you have arranged the item in a manner, then finding out an item is totally easy. The same here goes for PCs and Laptops also; if you defragment the hard disk in a regular manner, then your system will work faster as it will get every file easily.
Iobit Smart Defrag is a freeware tool that comes with an easy user interface, so a novice can also use this application.
Iobit Smart Defrag is based on IObit's latest disk defrag engine and "Boot Time Disk Defrag" technology; Smart Defrag provides a defragmentation app and intelligently streamlines your files based on using frequency, thus accelerating disk speed for faster data access! The unique Deep Analyze technology smartly cleans junk files before defragmentation to save more disk space for you. Being the first Disk Defragmenter that fully supports Windows 8/8.1 Metro Apps, Smart Defrag works fast, automatically, and quietly in the background and is a disk defragmenter suitable for large hard drives.
Just go to the end of the article, download the software, install it on your computer, and run it. Select any drive to which you want to defrag, and click on "Defrag," and the tool will do the rest for you. You can download Iobit Smart Defrag from here.
Conclusion
In conclusion, Iobit Smart Defrag is a powerful and user-friendly defragmentation tool for Windows operating systems. It offers efficient defragmentation and optimization of hard drives, resulting in improved system performance. With its easy-to-use interface and advanced features like "Boot Time Disk Defrag" and Deep Analyze technology, Iobit Smart Defrag stands out as a reliable choice for keeping your computer running smoothly. Whether you're a novice or an experienced user, this freeware tool can help enhance the speed and efficiency of your Windows PC.
Update: For a limited period, you can grab Iobit Smart Defrag 8.5 Pro for free.