Comodo is a well-known antivirus company, now offering PC TuneUP software also. After using a few days, Windows PC starts creating problems. It may be because of malware, virus, broken registry, junk files, security issues, etc. Because of these problems, your PC starts working slowly in a few days. To overcome this issue, you need PC TuneUP software; hence Comodo PC TuneUp may be a good choice.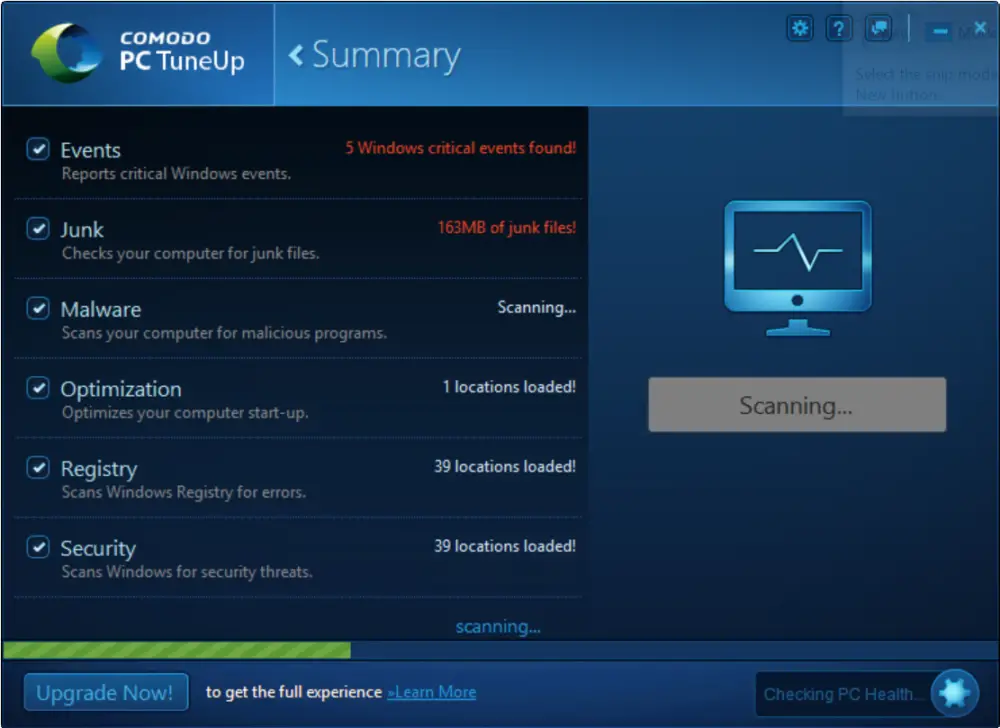 Comodo PC TuneUP can easily delete unused files from your computer and fix the registry issues, which are the main PC problems. The firm is offering free as well as a paid option too (the US $19.99). The paid software adds some more utilities like file restoration, disk wiping, and live customer support.
The free version of Comodo PC TuneUP is enough for normal users. It just needs 32 MB of RAM and 20 MB of hard drive space to run the program. It is compatible with 32-bit and 64-bit Windows 10, Windows 8, Windows 7, Windows Vista, and Windows XP operating systems. After downloading, installing, and launching Comodo PC Tuneup, it will deeply analyze your computer and present the errors like Events, Junk, Malware, Optimization, Registry, and Security.
Comodo PC TuneUp comes with a clean and easy user interface. On the first run, it takes lots of time to analyze your system. Once you start analyzing the system, there is no option to stop it. Comodo has to lot of work to improve this PC TuneUp software.
Since it comes from a popular company, it will keep improving the features. But, since its analysis is too slow, we will not recommend this app. It may be a problem with my computer only, and it is worth to try your own. It is free of cost for personal use with basic options.