DC-unlocker has released a new update for his software, DC-unlocker client software V1.00.1131, which can be downloaded from the end of the article.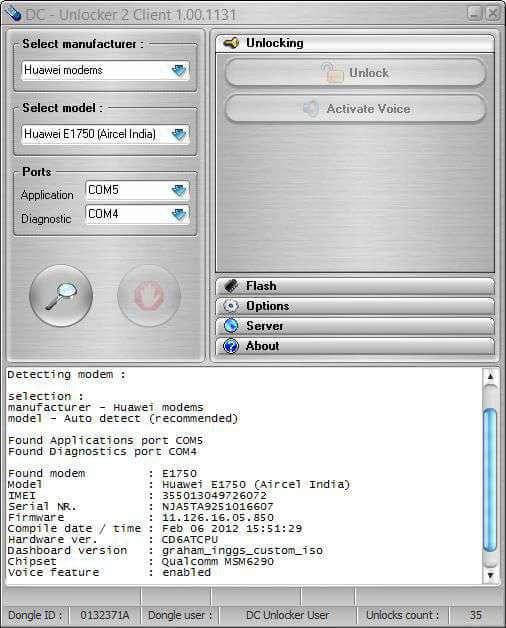 In the latest release, DC-unlocker client software V1.00.1131 can unlock the following :
Modems :
Huawei E3533
Huawei Vodafone K5150
ZTE D6601
ZTE MTS 430D
Routers:
Huawei E5878
ZTE SoftBank 102Z
ZTE Vodafone R212-Z
ZTE MF29
Customized Saudi Arabia Routers:
Huawei E5372 21.270.05.00.76 STC
Huawei E5372 21.270.01.00.82 Mobily
Huawei E5372 21.236.03.00.375 Zain
Embedded modules:
Asus Eee PC 1003HAG
Phones :
ZTE T126
ZTE T303
I can provide the unlock code of Huawei E3533, E5878, and E5372 devices, which charges are 6 USD per IMEI, whereas the unlock code charge for Huawei Vodafone K5150 is only 2.38 US$. Interested people can refer the corresponding posts and pay accordingly.
Additional download :
Download Vodafone K5006-Z LTE firmware patch
Download Firmware Huawei E3372s-153 21.286.03.01.209 (Megafon Russia)
Download Firmware Huawei E3372s-153 21.285.99.01.00 Normal
Download Firmware Huawei E3372s-153 21.285.01.02.143 (MTS Russia)
Download Firmware Update Huawei E3276s-150 22.470.13.00.00 (Universal)
Download WebUI Huawei E3276s-150 17.100.03.01.03 Hilink V7R1 V3R2 (Unbranded)
Download DC-unlocker client software V1.00.1131