Shutdown Blocker is a freeware tool that let you block Shutdown, Restart & Logoff commands in Windows PCs. Wise Auto Shutdown is opposite in function of Shutdown Blocker, as it allows you to schedule Shutdown, Restart, Log off, Hibernate, Power off, Sleep, etc.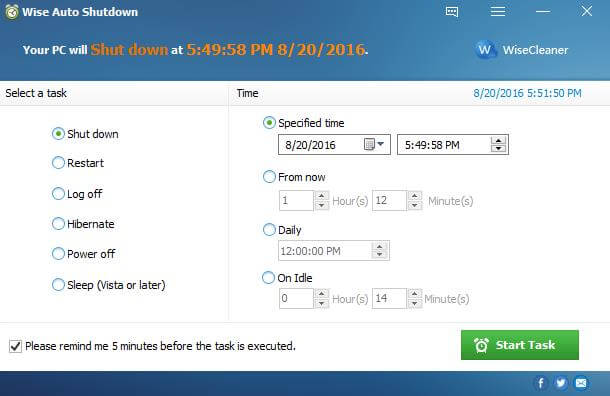 Wise Auto Shutdown freeware tool is from those team, who have already provided PC 1stAid, Disk Cleaner, Registry Cleaner, Folder Hider, Program Uninstaller, etc.
With Wise Auto Shutdown, it is possible to schedule the task to be executed daily, at an exact time, on a certain date and time or after an amount of time you set manually passes from the moment when the task is set active. You can enable reminders so you will be notified 5 minutes before it executes the task. If you have not finished the tasks yet, you can delay the task by 10 minutes or up to 4 hours.
Once you run this program, you will find a simple user interface. There are no menus, no complicated options or dialog boxes. It is divided into two panels. You can easily select which task you want to perform on the left and specify time, when you want that task to be executed on the right, then start the task. You can get the hang of it in seconds.
Once the task is started, Wise Auto Shutdown will sit in the system tray and run silently in the background. If you right-click on its icon from the system tray, the menu that appears will allow you to immediately reboot or shut down the computer, with a single mouse click.
Wise Auto Shutdown is a freeware tool. It is compatible with Windows XP, Vista, 7, 8 and Win 10, both 32-bit and 64-bit. You can download this app from here.
You might be interested in :