Auto Shutdown Genius is another freeware tool that comes with a lot of power options like Power off, Restart, Log Out, Hibernate, Standby, Turn Off monitor, Lock Work Station, and Screen Saver.
There are a few options in this free app, but it is quite useful. It also lets you restart your computer when CPU usage stays on specified % for 30 minute(s).
You can create, edit or delete the task through Task menu of this software.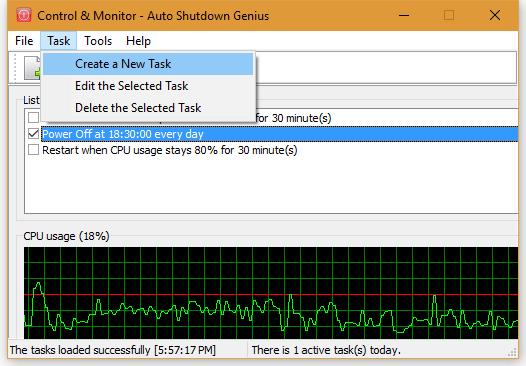 Once you click "Create a new task" option, a Task Window will be opened. You can schedule times from daily, weekly, monthly, once, when idle, or on the base of CPU Usage to prevent hardware failure. Once the task is scheduled, it will sit on Notification area of Windows and will monitor the power activities. Before executing the shutdown, a pop will come and if your task is not completed yet, you can cancel it.
The specified events will be logged and can be seen through tools > view logs.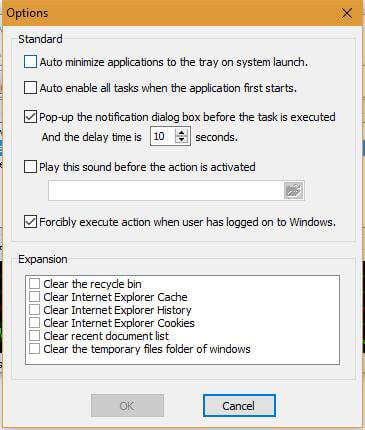 There are some additional features for registered users. Once the app is registered, it will auto minimize applications to the tray on system launch. It will automatically clear recycle bin, Internet Explorer Cache, Internet Explorer History, Internet Explorer Cookies, recent document list, and temporary files folder of Windows.
The Auto Shutdown Genius is compatible with Windows NT/2000/XP/2003 Server/Vista/Win7. However, in my test, it found working in Windows 10 also. You can download it from here.
Windows Reboot, Ninja Shutdown, and Simple Shutdown Timer are another freeware apps.
You might be interested in "How to Create a Shutdown Button on the Windows 8 and Win 8.1 Start Screen?".