If you are using an OEM version of Windows 10 / 8 / 7 and want to install a fresh copy of operating system. Or if you have downloaded an ISO file of operating system from Microsoft server, and you want to re-install your operating system. While installing or upgrading the Windows operating system, it needs the product key. Many times, the product key remains available on the laptop, but if you are unable to find out, you may recover it from your running operating system. Win Product Key Viewer is a freeware tool that lets you view the product or activation key from running operating system.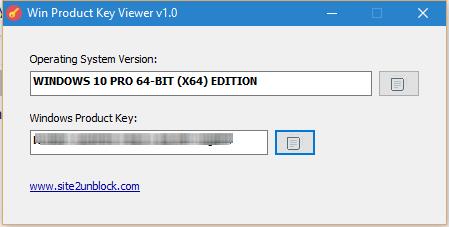 Win Product Key Viewer is a portable program and there is no need to install it. Just download and run the Exe file, it will immediately detect the Windows version and the Windows product key. You can copy the product key from the app to use it elsewhere. It is compatible with both 64-bit and 32-bit Windows operating system. It can recover the product key / activation key of Windows XP, Vista, Win 7, Win 8, Win 10 (32\64-bit).
You can download Win Product Key Viewer from here.
reCall is another popular app that lets you recover product / licence keys from most of the OS and software.