Windows Reboot is another freeware app that let you shutdown, power off, lock, log off, sleep, hibernate, and reboot your computer after a specific time. Similar to Ninja Shutdown, after running this portable app, it will show the current time as well as date from your PC.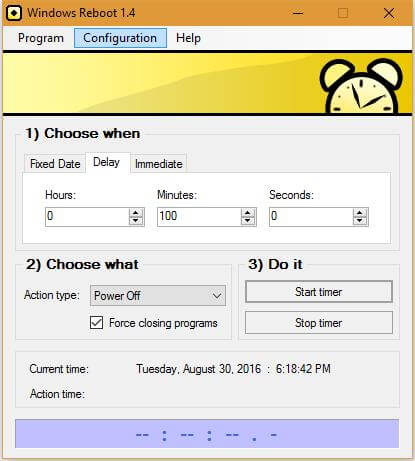 Windows Reboot also offers power off function, means it will interrupt the power on the motherboard (if PC supports).
The app is divided into three tabs, Fixed date, Delay, and Immediate. Fixed data lets you schedule the power options on a particular date. Delay – will execute the command after a specific time which you will set. Immediate – will take active same time.
The application is made in C#.NET 2.0 and needs the .NET Framework to be installed on your machine.
You can download this free utility from here.
Simple Shutdown Timer, Auto Shutdown Genius, Simple Shutdown Timer are another free tools that offer Shutdown, Log Off, Reboot, Hibernate & Sleep options that can be scheduled.
You might be interested in "How to Create a Shutdown Button on the Windows 8 and Win 8.1 Start Screen?".