There are so many apps over the internet to create a bootable USB disk from and ISO image, for instance, Microsoft Windows 7 USB/DVD Download Tool, ISO2Disc, WinToUSB, Rufus, etc. It is also possible to create a bootable USB disk of Windows 10 through command lin utility. WinSetupFromUSB and Yumi are freeware tools that let you boot multiple versions of operating systems from a single USB drive. Both the apps support Windows 10.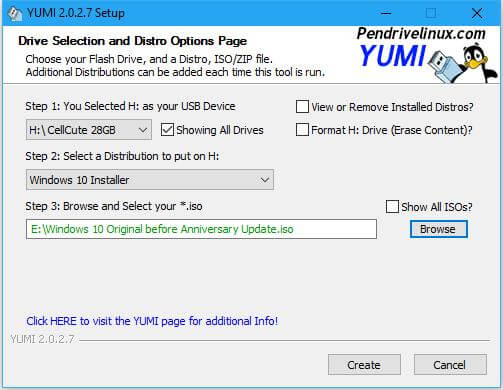 Yumi (Your Multiboot USB Creator) can be used to create a Multiboot USB Flash Drive containing multiple operating systems, antivirus utilities, disc cloning, diagnostic tools, and more. It uses the syslinux to boot extracted distributions stored on the USB device and reverts to using grub to Boot Multiple ISO files from USB, if necessary.
Requirements to create a MultiBoot USB-Drive:
USB drive
ISO files for Windows or Linux distros
Yumi software
Windows running PC
How to Create a MultiBoot USB-Drive with Yumi?
1. Download Yumi from here.
2. Connect your USB drive to PC.
3. Launch the Yumi.
4. Select the USB drive, operating system for which you want to create a bootable disk, and ISO file.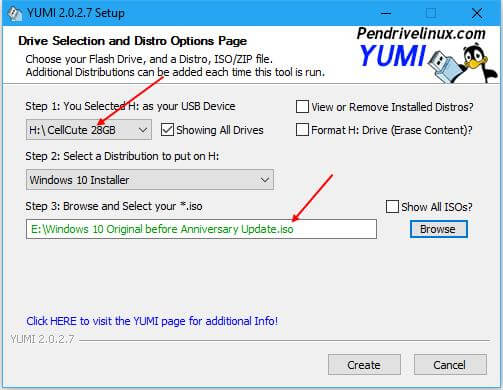 5. Once all the three required components are selected as above, click on Create button.
If you want to add more than one operating system on the same USB drive, repeat the process.