Most of us want to install Windows OS from USB drive as it is easy to carry and takes less time. Earlier for 'Windows setup' we were preparing CD/DVD, but all of us have now moved to USB drives. Installing a Windows from a USB is quite easy, as so many free tools are available to create a bootable flash disk. One can use Microsoft Windows 7 USB/DVD Download Tool, ISO2Disc, WinToUSB, Rufus, etc. If you are don't want to use any third-party tool, then you can do the same through command line.
But, what you will do if you want to create multiple versions of Windows bootable USB disk on a single flash drive, like you want to boot Windows 10, Windows 8.1, Windows 7, and Windows XP from the same USB drive. In this tutorial, we will guide you on installing any version of Windows from one USB flash drive using a tool called WinSetupFromUSB. The WinSetupFromUSB is a portable tool and there is no installation is required.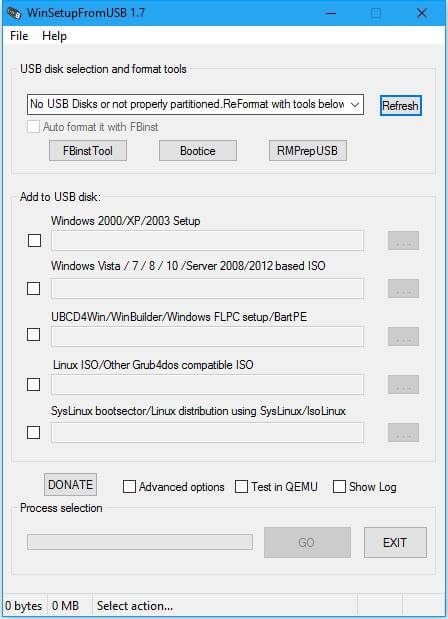 Before proceeding with steps, you need the following:
A USB drive
ISO files for Windows
WinSetupFromUSB software
A Windows PC
How to create a Windows bootable USB disk?
1. Download WinSetupFromUSB from here.
2. Extract the downloaded file in a folder.
Note: There will be separate Exe file for x64 or x86 architecture.
3. Plug a USB drive to PC with sufficient storage capacity. For more than 2 operating system, 16GB capacity flash drive is recommended.
Note: FAT32 file system is recommended for installing Windows from USB.
4. Launch the WinSetupFromUSB tool and click Advanced Options to and enable custom menu names for Vista/7/8/Server Source. With the help of this option, you can add your own custom names to Windows 7/8/10 menus.
5. Select the versions of Windows that you want to add to the USB drive. You can add Windows ranging from Windows 2000/XP/2003 to Windows Vista/7/8/10.
6. Locate the ISO files and finally click 'Go' button.will display a 'Job Done' message at the end
After completing the job, it will display a 'Job Done' message.
How to Install multiple Windows versions from a single USB disk?
To add multiple Windows setup, you need to repeat the process with more ISO files. For instance, if you want to add Windows 10 and Windows 7 to the USB drive. It can not be done in one go, so first create a bootable disk of Windows 10, later add Windows 7.
Once USB disk is ready, plug it into the computer where you want to install. Change the boot settings of the computer and boot from your USB drive and install the desired operating system.
In addition to Windows, WinSetupFromUSB lets you add Linux Distros to the same USB drive. You can download it from here.
Yumi is another tool that let you add multiple operating systems on a single USB drive.