PowerISO is a powerful all in one tool, that lets you create, burn, edit and mount ISO file. It also allows you to create CD / DVD and bootable USB disk. You can use this tool for free, but there is a limitation of 300MB only. Means you can create or edit a file of 300MB size only.
The PowerISO app supports all version of Windows including XP, Windows 2003, Windows Vista, Windows 2008, Windows 7, Windows 8 / 8.1, & Windows 10, both 32-bit & 64-bit.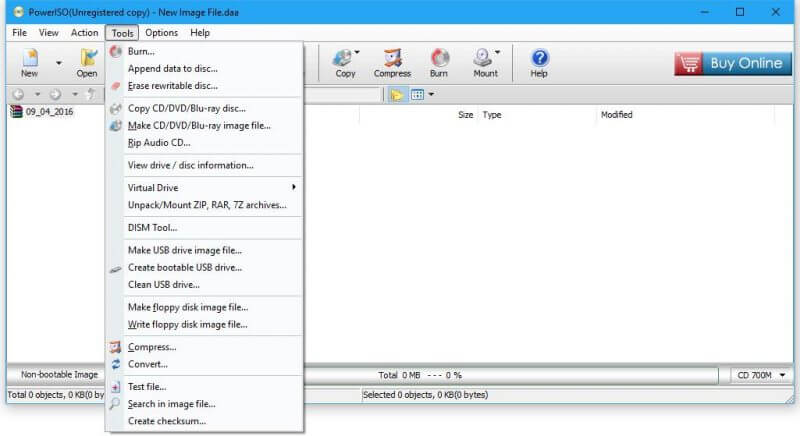 You can achieve all of the options from its Tools menu. It allows you to burn the CD/DVD disk, append data to disk, erase rewritable disk, copy CD/DVD/Blu-ray disc, create CD/DVD/Blu-ray image file, rip Audio CD, view drive/disc information, create / mount virtual drive, zip / RAR archives, make USB drive image file, bootable USB drive, clean USB drive, make Floppy disk image, write Floppy disk image, compress the image file, convert the image, etc.
PowerISO is plain in look and simple to use. It is the best disk imaging software available over the internet because it's powerful enough to suit most of your basic imaging needs.
Image files saved by PowerISO in ISO and BIN formats are readable by most imaging software installed on other computers, which adds to your ability to share the image across multiple platforms.
When you save images using PowerISO's proprietary DAA file format, you can password protect and encrypt your files so only you can view them. The DAA format allows you to split the imaged file across multiple volumes. While using, those volumes will automatically read as sub-volumes while extracting and mounting.
To create a Virtual drive select Tools > Virtual Drive > Set number of drives. You can set a maximum of 23 virtual drives. You can mount separate images in all virtual CD/DVD drives. There is also an option to unmount all drives at once.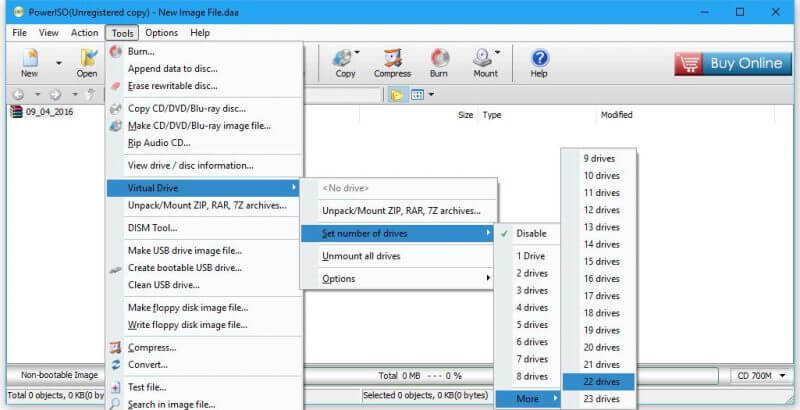 The PowerISO is a great tool, but the only cache is it offers only 300MB in size.
While downloading the app from the official website, it tries to change the default search engine, just skip it. While installing, it offers third-party software, you can uncheck them easily.
Folder2ISO is a freeware utility that lets you create ISO file right from the folder. For mounting, burning & creating the ISO, you can use WinCDmu.
You can  download this PowerISO utility from here.