ImgBurn is another lightweight freeware tool that lets you burn the CD / DVD/ HD DVD / Blu-ray.
While installing this app, it tries to install ByteFence, and Chromium browser. It also offers to change the default search engine to Yahoo. You can simply uncheck it by customizing the tool during the installation.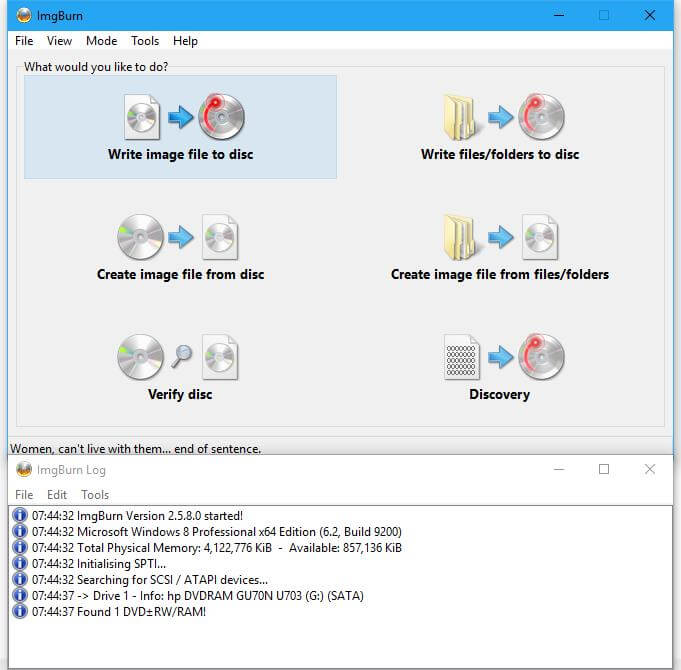 When you will launch ImgBurn tool, it will open two windows, one of ImgBurn and other for log. You can close the log Window and continue with your work.
This app offers some basic tool:
Write image file to disc – if you have already image file in your computer, you can create CD / DVD / HD DVD / Blu-ray disk from it.
Write files/folders to disc – You can directly burn files/folder to disc.
Create image file from disc – You can create an ISO file from the disc.
Create image file from files/folders – It allows you to create the image from files/folders.
Verify disc – It will verify CD / DVD.
Discovery – It lets you recover the data from corrupt CD/DVD.
ImgBurn supports a wide range of image file formats – including BIN, CCD, CDI, CUE, DI, DVD, GI, IMG, ISO, MDS, NRG and PDI.
This software allows you to burn Audio CD's from any file type supported via DirectShow / ACM – including AAC, APE, FLAC, M4A, MP3, MP4, MPC, OGG, PCM, WAV, WMA and WV.
It can build a DVD Video discs (from a VIDEO_TS folder), HD DVD Video discs (from a HVDVD_TS folder) and Blu-ray Video discs (from a BDAV / BDMV folder) with ease.
Unicode folder/file names is supported, so you shouldn't run into any problems if you're using an international character set.
ImgBurn is compatible with all the Microsoft Windows OS's – Windows 95, Windows 98, Windows Me, Windows NT4, Windows 2000, Windows XP, Windows 2003, Windows Vista, Windows 2008, Windows 7, Windows 8 and Windows 10 (including 32-bit and 64-bit versions). You can also use this program on Linux platform, if you use Wine.
The one feature I am missing here is the capability to mount the ISO image. ImgBurn is free and can be downloaded from here.