AOMEI OneKey Recovery is a one-click Windows system backup & restore software. Compare to full-scale backup disk, system and file tool, the biggest advantages of AOMEI OneKey Recovery is that it only focus on system backup and restore, and it is one key to recover, more easier. Many brand computers has inbuilt one key recovery program, for DIY computers, AOMEI OneKey Recovery is a good choice. We reviewed it before. Now, according to marketing and users' needs, AOMEI OneKey Recovery has been upgraded to new version with practical changes. Following I will explain them in details.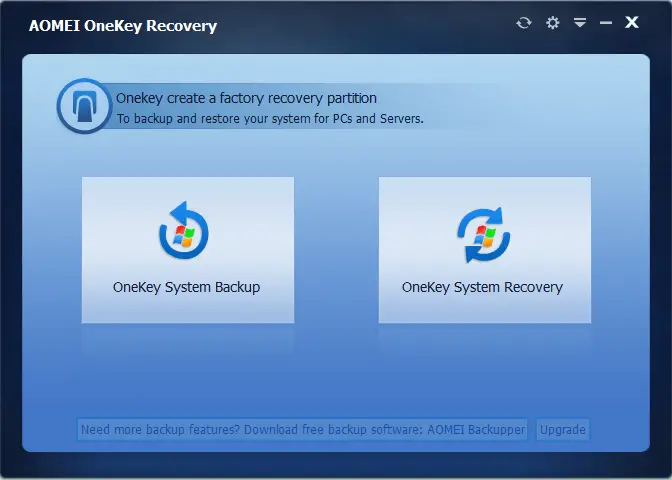 The interface of AOMEI OneKey Recovery changed a bit, the Windows flags added some color, which makes it full of energy. Now the latest 1.6 version of AOMEI OneKey Recovery has several editions: Free Edition, Professional, Premium,Technician and Customization Edition.
AOMEI OneKey Recovery works for Windows Server now if you choose Premium Edition. This license supports four PCs or Servers. However, it does not provide lifetime free upgrade. If your clients are all PCs, we suggest you to try AOMEI OneKey Recovery Technician, which also allows you to provide profitable technical support. It is nothing more practical than owning Customization Edition. This edition has full functions of AOMEI OneKey Recovery, what's more important, its customization feature allows you to customize user interface (UI), including logo, texts, links, images and other aspects. If you are a company or a team, change the logo and name to yours is better for cognition. And, AOMEI Technology has OEM program for AOMEI OneKey Recovery, if you want to change more, please contact them.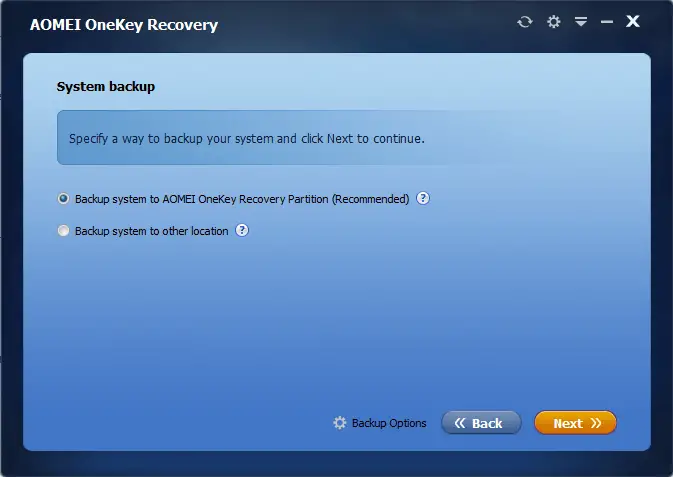 Above screenshot is the second step of system backup. Free edition only supports backing up system to factory partition. And does not support change the compression level of the image file and can't setting encryption of the file. From another perspective, these are advantages, few choices, real one-click to backup. It is easy to use for a lazy man. On the contrary, if you want to backup system to other location, restore system from local disk or external disk or by selecting an image file, AOMEI OneKey Recovery Professional suits for you.
At, I would like to emphasize again AOMEI OneKey Recovery only backup&restore system. If you want to backup file, sync file, backup disk, etc. Another AOMEI product – all-in-one Windows backup software AOMEI Backupper please learn from here.