Virtual CloneDrive is a freeware software to create and manage the virtual CD/DVD drives. It can mount up to 15 virtual drives at the same time. Supported common image formats such are ISO, BIN, CCD, etc. It is too easy to use, just double-click an image file to mount as a drive.
Virtual CloneDrive creates a virtual drive in your computer, which works and behaves just like a physical CD/DVD/Blu-ray drive, but it exists only virtually. Image files which are generated by CloneBD/CloneDVD/CloneCD or other applications like ImgBurn and PowerISO can be mounted onto a virtual drive from your hard-disk or from a network drive and used in the same manner as inserting them into a normal CD/DVD/Blu-ray drive.
The installation of Virtual CloneDrive is quite simple, just double-click on downloaded setup file, accept the agreement and click Next. During the installation, it will prompt you to install the device software from Elaborate Bytes AG, which is required for creating a virtual drive.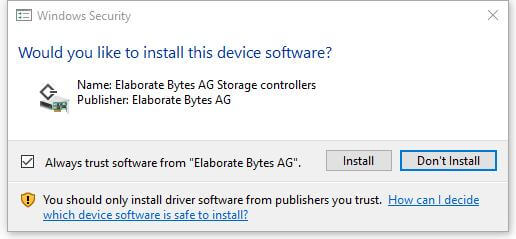 Once successfully installed, it will create one virtual drive and can be seen in My Computer / This PC. The app is totally free and does not try to install any crapware on your computer.
After installation, it sits in the system tray. You can access its settings by right-clicking on its icon from system tray. You can increase virtual drive numbers from 1 to 15 according to your needs, there is no restart is required.
During the system restart, it can automatically mount / unmount the last used images. It supports Windows XP/XP-64/VISTA/VISTA-64/Win7/Win7-64/Win8/Win8-64/Win10/Win10-64. You can download Virtual CloneDrive from here.
WinCDmu, Microsoft Virtual CD-ROM Control Panel, and DVDFab Virtual Drive are another freeware that lets you mount the image file.