There are various tools available to create bootable USB disk for Windows 10. Bootable USB disk can also be created without any third party software, but needs a basic knowledge of MS-DOS. Once bootable USB drive created, you can check, is it bootable or not with MobaLiveCD, without actually installing on your computer. If you don't have already Windows 10 ISO, you can download it officially, using Windows 10 Media Creation Tool.
In this post, we will see how to create a bootable disk using a third party freeware Rufus. Rufus stands for Reliable USB Formatting Utility with Source. It is a free and lightweight utility for Windows PC, that helps you easily format and create USB drives. With the help of Rufus, you can create your own bootable USB key or USB pen-drive of Windows Installation.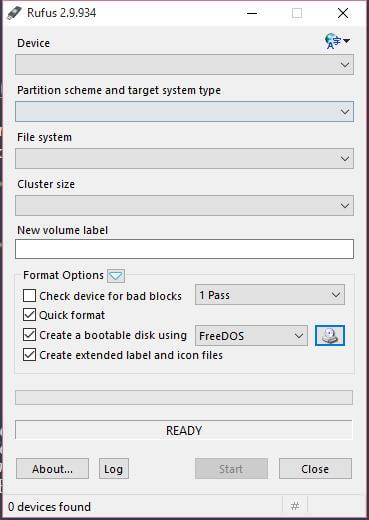 Rufus has user-friendly interface and provides options to choose between : device, partition scheme, file system, cluster size, target system type and new volume label. Under file system types you can select from NTFS, FAT32, exFAT and UDF.
Using this Rufus tool you can create a label, check devices for bad sectors, quick format mode, and icon files. A bootable disk can be created using the ISO image, FreeDOS or DD Image. Rufus records all the activities and saves them as a log file.
How to create a Bootable USB disk for Windows 10 using Rufus?
Note: During this process, your USB drive will be formatted. So, take the backup of your important data before proceeding with steps.
1. Download and run the Rufus, since it is a portable file, there is no installation required.
2. Run on your PC.
3. Connect USB device to PC (at least 4GB capacity USB drive is recommended).
4. Once USB disk is inserted on the Windows PC, it will automatically select recommended settings. If not, then select the device, 'partition scheme and target system type' (MBR partition scheme for BIOS or UEFI), 'File system' (NTFS), 'Cluster size' (depends upon your external drive), Label (You can edit as you wish), 'Quick format', 'Create a bootable disk using' (ISO Image) and 'Create extended label and icon files'.
5. Once above settings are ready, click on ISO icon.
6. In a new window, locate the ISO file of your Windows 10 operating system.
7. Once ISO files of operating system selected, you will see two options 'Create a bootable disk using' – "Standard Windows installation" and "Windows To Go".
Select "Standard Windows installation" and click Next.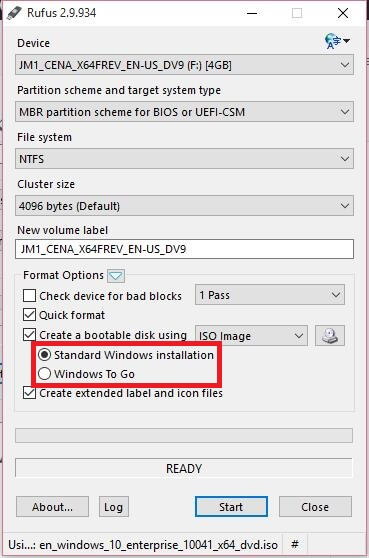 8. Wait for finishing.
It will take time according to your USB drive and PC speed.
Once bootable installation USB-disk is ready, reboot the PC, change the settings under BIOS and install the new operating system or repair as you wish.