JetClean is another tool which can clean the Windows registry, hard disk, uninstalled applications, broken shortcuts as well as RAM. Presently its latest version 1.5.0 is available, and can be downloaded from the link which is provided at the end of the article.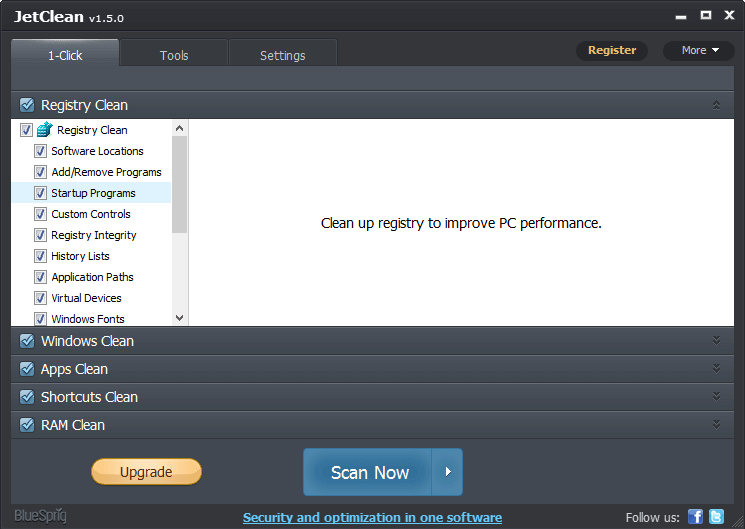 JetClean build by BlueSprig, comes free as well as paid version is also available. It comes with clean and easy user interface, so that a novice person can also use it, without any problems. While installing, its try to install the toolbar, just decline them and proceed to further installation. After installation, the JetClean will create shortcut on your desktop. Double click on them to launch the application.
The JetClean software comes with three main tabs, namely – 1-Click, Tools and Settings. If you don't want to customize the settings, then just run the applications after installation, you will get a "Scan Now" button. Just clean on that and it will detect all the problems from your PC, after that click on Repair button, and it will fix easily all the errors. The 1-click option cleans junk files, leftover registry entries and also clean the RAM to improve the performance of your PC.
The JetClean tool is so powerful that it automatically scan your computer and clean Recycle Bin, Recent Documents, Temporary files, Log files, Clipboard, DNS Cache, Error Reporting, Memory Dumps, Jump Lists.
The JetClean features automatic clean also, however it is available in Pro version only. It supports English, Arabic, Catalan, Chinese (Simplified), Croatian, French, Hungarian, Spanish, Spanish (Latin American), Polish, Portuguese, Portuguese (Brazilian), Russian, Bulgarian, Dutch, German, Estonian, Ukrainian, Czech, Turkish, ChineseTrad, Finnish, Vietnamese, Greek, Italian and Slovenian languages.
Alongside cleaning of your PC, the JetClean free program shows the full PC system information also. You can info about Processor, Bios, Motherboard, Disk Drives, CD Drives, Video adapter etc.
The software also comes with inbuilt uninstaller, it lists all the installed software of computer, and you can easily completely uninstall any applications along with left over files. You can utilize it in place of CCleaner and Wise Registry Cleaner.
The software is also to defrag the registry and boost the internet speed.
Another best part of the this JetClean is that, you can create a portable version of this app also. So, there is no need of installing it in PC. While you are moving from one to another place, just keep it in Pen drive and run it in any another laptop as well.
In my reviews, it is found better than YL Software WinUtilities Free utilities. According to the official website of JetClean, it works with Microsoft Windows 8, Windows 7, Vista, XP and 2000; including both 32-bit and 64-bit versions. However, I have tested it with Windows 8.1 and it works well.
Overall, the JetClean is the best free tool, that can be utilized to keep the PC totally clean.