Might you have already heard about the CCleaner – a freeware Windows PC cleaning application. It is the best cleaner of the Windows computer over the internet, there is no better alternative can be for this freeware tool.
CCleaner is available Free as well as paid version, hence before proceeding to the download, make sure you are downloading the correct one. It is less than 5 MB, but it should be in every person's PC's, to run it faster and more stable.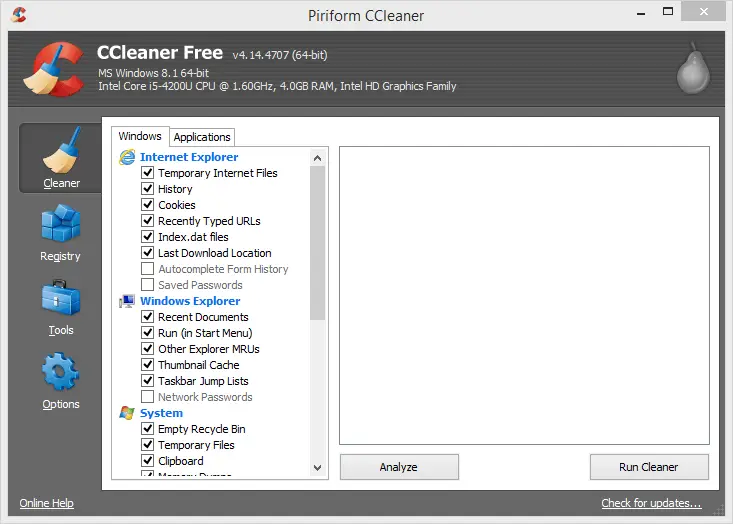 The Cleaning software is built for Windows OS and supports all versions of Windows, including Windows 10, 8.1, 8, 7, Vista and XP, both 32-bit and 64-bit versions, but not RT tablet editions.
Currently, CCleaner  v4.14.4707 is available for download, and in this latest version, the team has added :
Improved Firefox and Mozilla based browser Cookie cleaning.
Improved Startup item Unicode support.
Improved Operating System detection.
Added Cyberfox browser cleaning.
Improved 64-bit Registry detection and cleaning architecture.
Improved skip UAC warning for Monitoring (CCleaner Professional only).
Added PowerArchiver 2013, Nitro Pro 9 and Stardock WindowBlinds cleaning.
Improved Microsoft Office 2010, Foxit Reader 6, AVG AntiVirus 8, 9, 10, 2012 and 2013 cleaning.
Minor GUI Improvements.
Minor bug fixes.
Piriform's CCleaner is quick and easy to use, just download the program, install in PC, run it and start cleaning your PC, which makes your computer faster, more secure and more reliable.
Cleaner removes cookies, temporary files, invalid registry files and various other unused data that slows down your operating system.
The built in Registry Cleaner fixes errors and broken settings to make your computer more stable. The simple, intuitive UI and rapid but powerful cleaning make CCleaner a favourite among novices and techies.
The CCleaner keeps clean all the major browser, including Internet Explorer, Firefox, Google Chrome, Opera, Edge, and Safari. It cleans temporary files, browsing history, cookies, auto-complete form history, index.dat, download history, memory dumps, thumbnail cache and other.
In the hard disk, this freeware tool checks for Recycle Bin, Recent Documents, Temporary files and Log files and also removes unused and old registry entries.
The CCleaner has built with an Uninstaller tool also that lets you completely uninstall the installed software from your PC. Before cleaning the computer, the tool also recommends to backup the system restore file, hence you can restore your PC to an earlier stage in disaster.
Drive Wiper, File Finder, and Start-up manager are another beauty of this freeware program.