There is no easy way to download the ISO or Exe file of older Microsoft Windows OS or Office suite like Windows 10/8.1/7 or MS Office. You can get the direct download link from Microsoft official website or you have head over to MSDN server if you have a subscription. Universal Windows Downloader is a freeware that let you access direct download link of all products from Microsoft. This free software lets you download Windows 7 to Windows 10 as well as other products including OneNote, Word, PowerPoint, Office, Outlook, Excel, Access and more.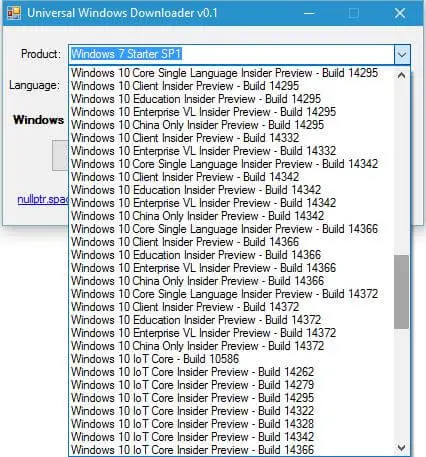 The Universal Windows Downloader is a portable app and around 500KB in size. Just download and run the Exe file and select from options, the required software. Once you select the product, you need to select the language in which you want to download.
This tool offers you both, 32 bit (x86) and 64 bit (x64) download link. Decide either 32-bit or 64-bit download link, and click accordingly.
Once you click on download button, it will ask you to save or open the file. Once you specify the location, the file download will start.
Universal Windows Downloader is a pretty useful app to download older version Windows OS or Microsoft office suite. You should note that it only downloads a .exe or ISO file. For installing them on your computer, you should have a valid license or serial key. You can download Universal Windows Downloader app from here.
Windows and Office ISO Downloader Tool is another application that let you download Office 2007 and Office 2010 from the Microsoft's server.