Ashampoo is another Windows software developer, offering his product Ashampoo Burning Studio 6 for free, which can be used with Windows XP, Vista, Windows 7, and Windows 8 operating systems.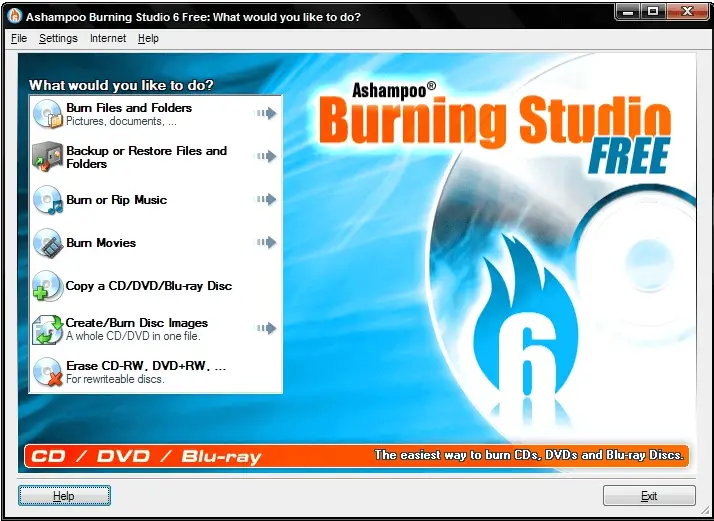 The Ashampoo Burning Studio 6 freeware keeps all the advantages of its predecessor. It adds multi-disc file backup, an integrated audio CD ripper, and further improved support for the exciting new Blu-ray format with capacities of up to 25 gigabytes per layer.
The Ashampoo Burning Studio 6 is a free tool, comes with a simple and easy user interface. Any novice person can use this application without having any trouble.
The Ashampoo Burning Studio 6 comes with the main seven menus :
Burn files and folders: With this option, you can easily create a data CD / DVD / Blu-ray disc for a file/files or folder/folders. While burning, if you will not finalize the disc, you can later add another file and folder.
Backup or restore files and folders: With the help of this menu, you can backup your CD / DVD, or even you can restore it also.
Burn or rip music: This is a great option for the music lover to create or rip the music.
Burn Movies: If you have various small videos on your computer/laptop, you can easily burn them to a CD / DVD to further watch your personal PC or CD / DVD players.
Copy a CD / DVD / Blu-ray Disc: This function is useful when you want to copy the entire disc to another CD / DVD / Blu-Ray disk. It will burn exactly in the newer disc, as it was in the old one.
Create / Burn Disc Images: This is another useful tool to create the image (.iso) of any disc and burn the already created .iso image in the CD / DVD.
Erase CD-RW / DVD-RW / Blu-Ray-RW Disc: This option is useful for those who use CD-RW / DVD-RW disk to burn the temporary files, and further he deletes after the specific purpose solved.
The main features of Ashampoo Burning Studio 6 :
Multi-disc file backup and restore on CDs, DVDs, and Blu-ray discs.
Create compressed backup archives with powerful password protection
Split archives automatically across multiple CDs, DVDs, or Blu-ray discs
Restore archive contents to their original locations
Integrated Audio CD ripper – store your audio tracks as WMA or WAV files.
New option for setting the number of copies you want to burn (available for all disc formats)
Discs can now be verified immediately without being ejected first (if the drive supports this feature)
Numerous other small improvements that make the program easier to use and more effective
Burn files and folders on data CDs/DVDs/Blu-ray discs
Burn Audio CDs from WAV, MP3, FLAC, WMA, and Ogg Vorbis files
Burn MP3-CDs from your MP3 files
Burn Video DVD, Video CD (VCD), or Super Video CD (S-VCD)
Create and burn CD/DVD/Blu-ray disc images
Burn speed and other options can all be set automatically.
Make copies from audio, video, or data discs easily.
Interactive troubleshooting assistant for solving hardware and media problems
Save project files so that you can burn the same discs again later.
Erase CD-RWs / DVD+RWs / DVD-RWs/ DVD-RAM/ BD-REs
Integrated support for over 1,700 CD, DVD, and Blu-ray burners
Ashampoo Burning Studio 6 can be downloaded from the link below; it is only 12.29MB in size but very useful and interactive. Still, if you don't like it, then you have choices for Free ISO Burner, Kayote Free CD DVD Burner, and CDBurnerXP.
Download Ashampoo Burning Studio 6 Free