There are various freeware software available over the internet to burn the CDs and DVDs for free. CDBurnerXP is one of them, which is very useful.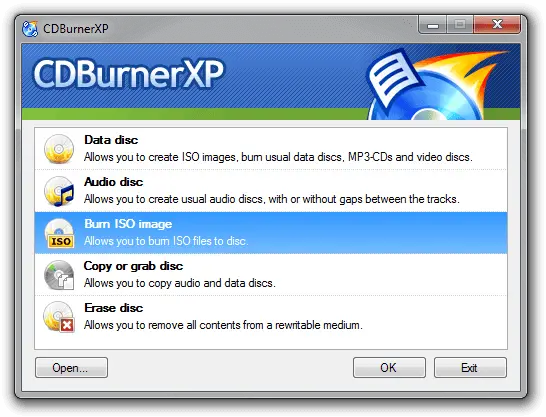 The CDBurnerXP comes with beautiful and easy interface, can be operated with any novice person also.
The tool comes with four main menus :
Data disc : With this menu one can easily create the data disc.
Audio disc : This option is useful to create the Audio CD or DVD.
Burn ISO image : The option is for those, who have already created the ISO file and saved in his PC, can now burn his ISO to CD or DVD.
Copy or grab disc : It is helpful to those, who have a audio or data disc and want to copy the whole CD or DVD in his PC or laptop.
Erase disc :  It is created for the purpose to delete the whole re-writable disc, to burn it again with different data.
The CDBurnerXP is a free program to burn CDs and DVDs, as well as Blu-Ray and HD-DVDs. This application is only able to create the CDs and DVDs, but it also capable to burn and create ISOs, as well as a multilanguage interface.
The software is not only free for personal use, you can use it in for business purpose also. CDBurner is useful software to burn all kinds of discs. It is able to burn the audio-CDs with or without gaps between tracks.
The CDBurnerXP is even able to create the bootable CD, can convert bin / nrg file to ISO, or vice-versa.
However, this burning software named as CDBurnerXP, but it is compatible with all major Windows operating systems; including Windows 2000/XP/2003 Server/Vista/2008/Win7/Win8 (x86 / x64).
The developer keeps the software updated, and presently CDBurnerXP Version 4.5.4.4852 is available for download (link provided at the end of the article), size is only 5.43MB.
The Key Features of CDBurnerXP :
Burn all kinds of discs
Audio-CDs with or without gaps between tracks
Burn and create ISO files
Data verification after burning process
Can create bootable discs
Multi-language interface
bin/nrg → ISO converter, simple cover printing and much more!
Supported Operating Systems: Windows 2000/XP/2003 Server/Vista/2008/Win7/Win8 (x86 / x64)
Download CDBurnerXP Free Software