As the name suggests, Free ISO Burner is a freeware program for personal and non-commercial use, can be downloaded from the link which is provided at the end of the article.
Free ISO Burner is a very small software (size 800KB), but it is very powerful to burn the ISO disk to CD-R,CD-RW, DVD-R, DVD-RW, DVD+R, DVD+RW,HD DVD and Blu-ray Disc. Presently, its latest version 1.2 is available for download.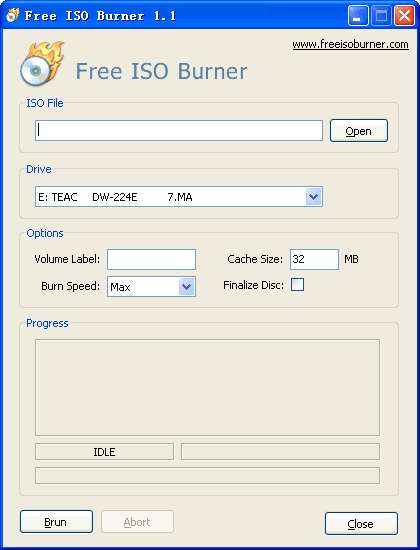 What is ISO Image?
An ISO image is an archive file of an optical disc (CDs / DVDs), basically, it is a type of disk image composed of the data contents of every written sector of an optical disc, including the optical disc file system. ISO image files usually have a file extension of .iso. The name ISO is taken from the ISO 9660 file system used with CD-ROM media, but what is known as an ISO image might also contain a UDF (ISO/IEC 13346) file system (commonly used by DVDs and Blu-ray Discs).
ISO images can be created from any optical discs by disk imaging software, or from a collection of files by optical disc authoring software, or from a different disk image file by means of conversion. Software distributed on bootable discs is often available for download in ISO image format and, like any other ISO image may be written on, or "burned" to, a CD, DVD, or even a USB flash drive with any capable software.
Basically, ISO organization aims at supporting different computer operating systems such as Windows, Mac OS, and Unix-like systems so that data may be exchanged easily.
Read : Kayote Free CD DVD Burner and CDBurnerXP
Free ISO Burner
Free ISO Burner is a free program, that can just burn your ISO and CD/DVD image file to CD-R,CD-RW, DVD-R, DVD-RW, DVD+R, DVD+RW,HD DVD and Blu-ray Disc, no need mount any "virtual drives" which emulate physical CDs or DVDs, it is capable in writing any data directly.
To use the Free ISO Burner, download from the link provided below, run in Windows PC, Click [Open] button to choice one ISO image file (*.iso), insert a blank CD in your CD-RW drive, then click [Burn] to start the disk burning.
Users can select the drives, set the disk volume, select burn speed and change the burn cache size, during the burning user can click [Abort] to abort the burning progress.
Free ISO Burner also supports bootable CD image file. If you want to finalize the disc (after finalizing the disc, no more data can be added), select [Finalize Disc] in the main interface to finalize a disc on which data have already been written.
Free ISO Burner is 100% free software, comes without adware and spyware. This program works with Windows 32-bit and 64-bit Editions. This program is very small, portable apps, no need installation and can run directly from one USB device also.
Free ISO Burner supports all major version of Windows, including Windows XP, Windows Vista, Win 7, Win 8 and Win 8.1. You can download Free ISO burner from here.
You might be interested in Passcape ISO Burner, PowerISO, WinCDmu, ImgBurn, BurnAware Free, Ashampoo Burning Studio, etc.