Kayote is another developer of CD and DVD burning software, has launched "Free CD DVD Burner" Freeware Tool, which can be downloaded from the download link which is provided at the end of the article.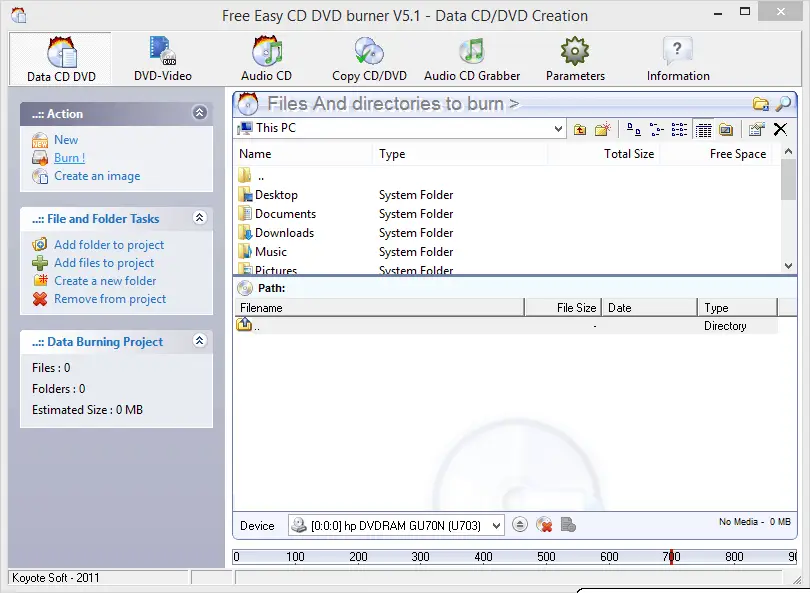 With the help of this Kayote's Free CD DVD Burner tool, you can easily and quickly create the Data CD DVD, DVD-video, Audio CD, Copy CD/DVD etc.
The Kayote Free CD DVD Burner application features drag and drop (files and folders) supports, just download and install the program in Windows OS, open the tool and drag and drop any file in Kayote's data writing software, and burn the disk.
Kayote's burning tool does not only features, CD and DVD writing, but you can also use this tool to work with ISO Images by creating new image files, editing existing ones and burning copies on DVDs.
What is use of Kayote Free CD DVD Burner :
Burn Audio CDs from your favorite music to enjoy on your computer
Burn favorite movies to DVD-videos
Create, edit and burn ISO images
The key features of Kayote Free CD DVD Burner :
User friendly and simple interface
Drag and drop files and folders
ISO 9660 standard, Joliet buffer underRun protection and multi-session support
Supports dual-layer DVD formats, CD-R, CD-RW, DVD-R, DVD+R, DVD-RW, DVD+RW, Blu Ray Discs
Supports many audio formats, including: WAV, WMA, MP3, OGG, FLAC and more
Easy installation
100% Safe to use
Windows compatible
The Free CD DVD Burner too, created by Kayote, works with all major operating systems of Windows; including XP, Vista, Win 7, Win 8 and Win 8.1 (Tested and working).
It can be used in place of CDBurnerXP, which also works like Kayote Free CD DVD Burner, but comes with an additional feature of erasing the re-writable CDs and DVDs.
Download Kayote Free CD DVD Burner Software