Before Windows 10 Anniversary Update, there was no direct option to change the default location of Downloads folder. Means, when you download any file from the web through Microsoft edge browser, it gets downloaded to the C:\Users\username\Downloads folder by default. However, it was possible to change to download location through Registry editor. But if you have upgraded your PC with Windows 10 Anniversary Update, then now you can make changes in default download location through its settings. Now it is possible to change the location of the Downloads folder, where Microsoft Edge browser downloads & saves files, via its Settings.
How to Change Edge browser Downloads folder location?
1. Open the Edge browser and click on the 3-dotted More link from the right top corner.
2. Scroll down and click on Settings.
3. Scroll down to the end, you will see a View Advanced settings button. Click on it to open.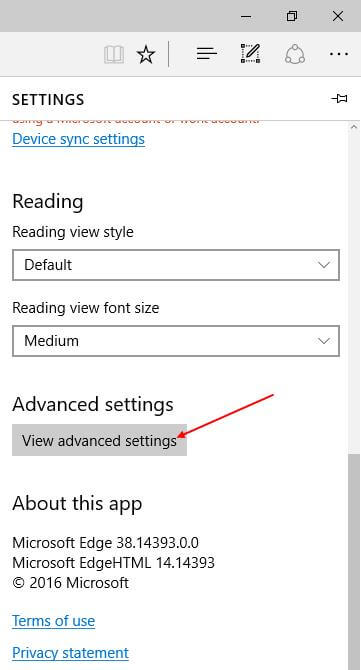 4. Having done that, you will see 'Save downloaded files to' and below that current download location.
5. Click Change.
6. Now you can set a new Downloads folder, where Edge will download and save all your files from the Internet.
If you have not yet upgraded your PC to Windows 10 Anniversary Update, you can download the ISO file for the same from Microsoft server.