Microsoft has made various improvements in Windows 10 with the launch of Anniversary Update Windows 10 v1607. If you have not got any notification about this update yet then you can use Windows 10 Update Assistant, through which you can immediately get the Windows 10 Anniversary Update. If you want to create a bootable USB disk of Windows 10 Anniversary Update then you need to download the ISO file for the same through Microsoft official server.
One of the major change in Windows 10 Anniversary Update is the ability to install the extensions in Edge browser. Noticeably, updated Windows 10 let you change the default download location of Edge browser via its settings.
In this post, we will see how to manage, disable, configure, install or uninstall Extensions in Microsoft Edge browser. With the options of installing extensions in the Edge browser, now it will give tough competition to chrome, opera, Mozilla Firefox, etc. Extensions can enhance your web browsing experience.
How to Install and Manage Extensions in Microsoft Edge Browser?
1. Launch the Edge browser and click on the 3-dotted More link.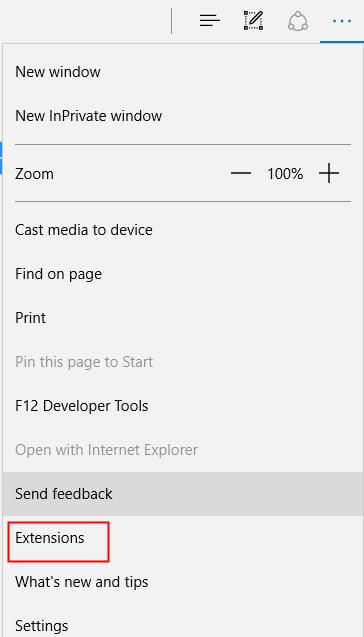 2. Scroll download and click on Extensions.
3. Click the link labeled: Get extensions from the Store.
4. Clicking on the link will open the Windows Store, where you can see all the extensions currently available for Edge. You can get AdBlock, Adblock Plus, Pin It Button, Translator for Microsoft Edge, LastPass: Free password manager, OneNote web clipper, Evernote Web clipper, amazon assistant, office online, save to pocket, Reddit enhancement suite, mouse gestures and page analyzer extensions.
5. Clicking on any Extension will open up the details about it.
6. Click Free.
7. It will be downloaded and installed on your PC.
8. Once installed, you will get Launch button in place of Free.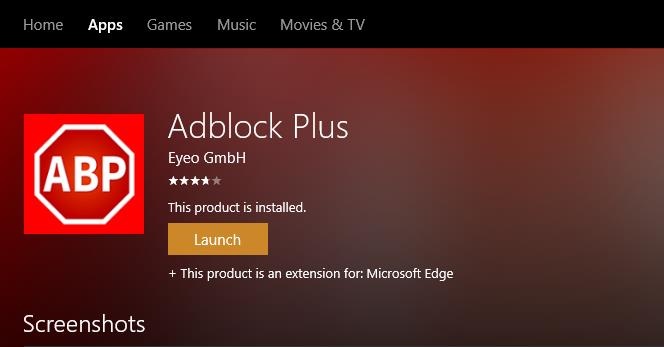 9. On the right side of the browser, you will see two options : Turn it on and Keep it off.
10. To enable the extension, click on Turn it on. If you do not want to enable it, just click on Keep it off.
Now, you can see this entry in the list of extensions.
11. Clicking on the installed extension will show two buttons : Options and Uninstall.
12. Clicking on Uninstall will uninstall the extension from your Edge browser, whereas Options button will provide you addition settings of the particular extension.