Most of us are using pen-drive or USB hard disk for various purposes, but chances are there you might want to burn a DVDs or CDs for bootable or another purpose. There are a lot of freeware available over the internet, to burn the CDs or DVDs. One of the best tools is AnyBurn. It is less than 1.5 MB in size but works according to the requirement. It supports both 32-bit and 64-bit operating system, including Windows 2000, Windows XP, Windows 2003, Windows Vista, Windows 2008, Windows 7, Windows 8 / 8.1, and Windows 10.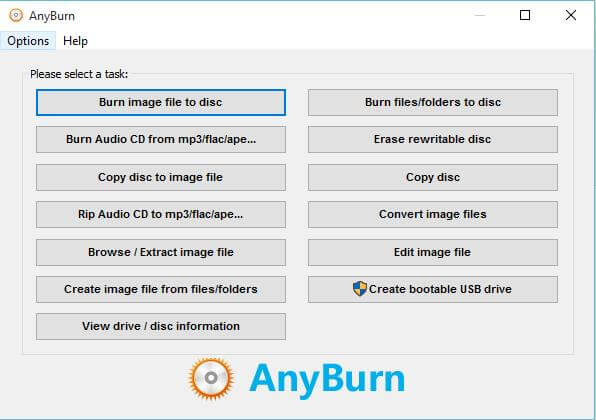 There are only two menu's, one is options and other is the help. Through options, you can change the language, buffer size etc.
The main features of AnyBurn:
Burn image file to disc
Burn audio CD from mp3/flac/ape etc
Copy disc to image file
Rip audio CD to mp3/flac/ape etc
Browse / extract image file
Create image file from files / folders
View drive / disc information
Burn files / folders to disc
Erase rewritable disc
Copy disc
Convert image files
Edit image file
Burning process is simple, as you need file / folders / disc image and a black CDs / DVDs to burn the file. It also supports erasing of the rewritable disc, that is not a hard job.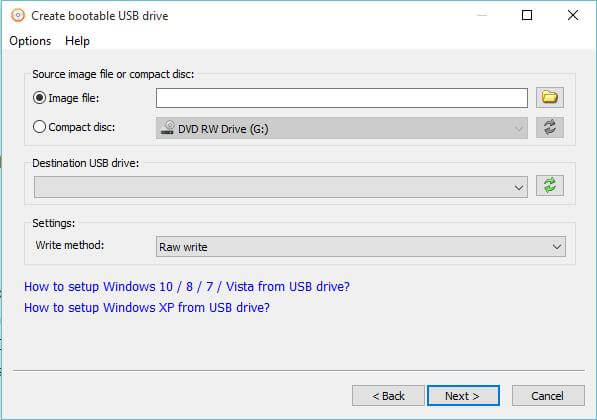 The noticeable feature of AnyBurn is, this freeware software can create a bootable USB drive. Earlier we had used Windows Installation Media Creation tool, and Rufus to create a bootable Windows 10 USB disk. Once bootable USB or DVD made, you can check the same by MobaLiveCD. It is also possible to Install, Reinstall and Clone Windows 10 without CD/DVD/USB Drive.
You can create a bootable USB disk through image file or CDs / DVDs. You can download AnyBurn from here.