Soon after the installation of Windows operating system, we forget about its installation media. What you will do if you want to install or reinstall Windows 8.1 and you have lost the installation kit. Microsoft has come with a handy app and now provides an online tool to create Windows 8.1 installation media. Once you lost your ISO / DVD of Windows 8.1 you can create it using Installation Media Creation Tool.
How to use Windows Installation Media Creation Tool to create USB / DVD disk for Windows 8.1?
It's always a better idea to keep the installation media ready. To get the installation media, one should have a working internet connection with sufficient data, USB flash drive with at least 4GB capacity or a DVD burner and a blank DVD to burn the downloaded ISO on your PC. One has to download and run a small application which is provided by Microsoft.
Creation of Windows 8.1 installation media
1. Download Windows Installation Media Creation Tool from the official website.
2. Choose the following according to your requirements:
(i) Language
(ii) Edition of Windows 8.1
(iii) Architecture : 32-bit or 64-bit.
Note: You will not be offered the option for Windows RT edition.
3. Click Next.
4. Choose the installation media as USB flash drive or ISO File to save in the computer to create bootable disk later.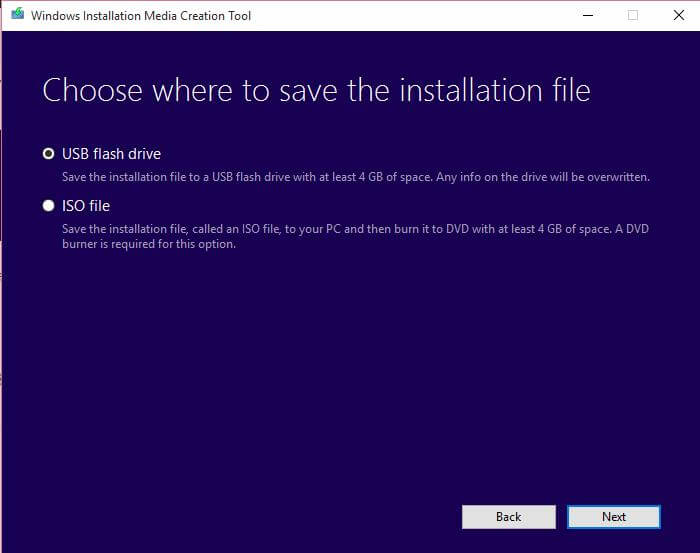 5. Now follow the instructions accordingly.
Once downloading is finished, you can install a fresh Windows 8.1 on your PC later.
Microsoft has also released Windows 10 Media Creation / Installation Tool for Windows 10 users that lets you create and save ISO file from the official website.