Windows 10 operating system from Microsoft, comes bundled with telemetry and tracking services that are enabled by default. While the firm is insisting that it was 'not spying' but simply trying to enhance the program by understanding what users do, Windows 10 is constantly collecting users' data, sharing Wi-Fi passwords to contacts, and collects data and usage patterns exhibited by every user of Windows 10.
Even older versions of Windows shared some information with Microsoft. So, privacy and security may have been severely compromised without your knowledge.
All your suspicions may be resolved by some of the Windows Privacy Tweaker software that easily restores all your settings to it maximum safety levels. Recently, we had shared Destroy Windows Spying, O&O ShutUp10, Win.Privacy, etc, that are focused on privacy of Windows 10. Today we will share with you another freeware tool, the Phrozen Windows Privacy Tweaker.
This is a freeware tool, and under the software, you will find some settings are marked in Green color, means you are safe, and some are in Red color, means you are not safe.
When you will run the Phrozen Windows Privacy Tweaker, it offers you to create a system restore point, that is good, if something goes wrong then you can restore your computer to the previous status.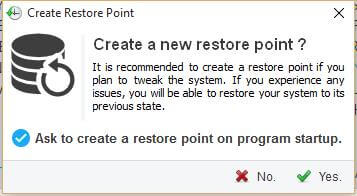 It can also be used with commands: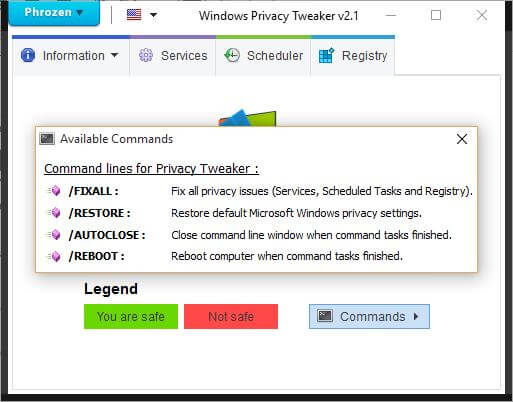 /fixall: Fix all privacy issues (Services, Scheduled tasks, and Registry).
/restore: Restore default Microsoft Windows privacy settings.
/autoclose: Close command line windows when command tasks finished.
/reboot: Reboot computer when command tasks finished.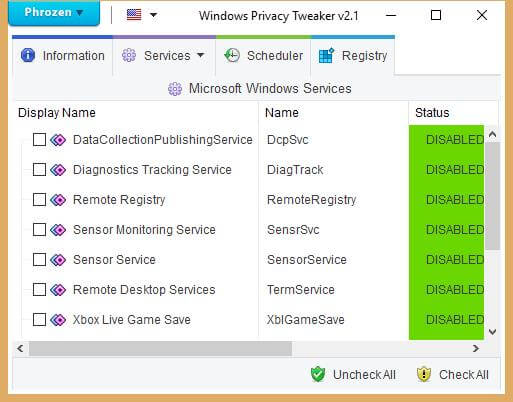 You can enable or disable any option by just check / uncheck the checkbox. If you want to disable all the suggestions by the software, just click Uncheck All. To enable all the options at a time, just click on Check All. You can download Windows Privacy Tweaker from here.