We have already provided so many articles to unlock Huawei, ZTE, Micromax, Alcatel, Doro, Airtel, Aircel, Vodafone, Idea, Reliance, Tata Docomo modems for free. Today, I am providing another article to unlock your modem of MTN fast link, Glo, Etisalat free within minutes with the help of a freeware Univeral Master Code v0.4, created by Darmiles. It is a great freeware and works perfectly with Huawei, ZTE, Airtel,  Aircel, Vodafone, Idea, Reliance, Tata Docomo, MTN  Fastlink, Glo, Etisalat modems.
Users who have purchased a locked modem to a particular network may be benefited from this post. You can make your modem universal, which means that you will be able to use any another network provider SIM card than the default.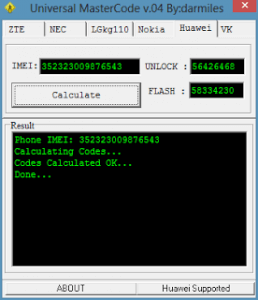 How to Unlock Huawei and ZTE Modems Free?
1. Download the Universal master code tool.
2. Note down the make and IMEI of your modem.
3. Run the downloaded software and go to the appropriate tab as per your dongle make.
4. Put your IMEI in the IMEI box and click on the Calculate button to calculate the unlock code and flash code for your modem.
5. Now disconnect the modem from the computer or laptop and put an unacceptable SIM on your modem and connect it again.
6. Now, your modem should ask for an unlock code.
7. Provide the unlock code which you have generated above and click on the OK button.
8. Now, your modem is Universal, and you can use it with any network provider SIM.
Note: Huawei modem with 86 series IMEI comes with a new Algorithm and cannot be used with the above tool. Once you input the 10 times wrong unlock code into the data card, it will be locked forever.