Many a time, when you try to delete a file or folder from Windows computer, you get an error message "Cannot Delete" or "Access Denied". The reason behind the errors may be many, e.g. you don't have permission to access the file / folder, you might have been logged in into Windows PC with limited users, some program is using that file/folder, etc.
IObit Unlocker is a light-weight and freeware tool that can unlock that file and after that, you can delete it easily. If the app is not able to delete while running Windows, it will schedule and during the restart of Windows, it will delete that particular file or folder.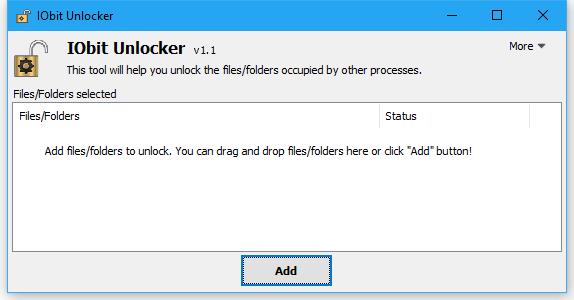 Unlocker is a powerful tool and able to fix the "Cannot Delete" or "Access Denied" problems. It can "Force" to terminate all related processes that prevent you from deleting or accessing files / folders that you need to. This software also provides several useful options to make your work easier, like "Unlock & Delete", "Unlock & Rename", "Unlock & Move", and "Unlock & Copy". With the help of this tool, you will not face annoying messages like "Cannot delete file: Access is denied", "undeleted files", "The file is in use by another program or user", or "There has been a sharing violation"!
Once you run this tool, you can see an Add button. Click on Add and select the file or folder which you want to delete.
Once you have added the file / folder to IObit Unlocker app, it will show the status as it is locked or not. Doesn't matter the file is locked or not, you can choose from options like "Unlock & Delete", "Unlock & Rename", "Unlock & Move", and "Unlock & Copy".
This app is especially great for those, whose computer is infected with a virus and does not allow to delete, move or rename the file. It is also compatible with Windows XP, Vista, 7, 8 , 10.
You can download this freeware tool from here.
Fileassassin is another free app that let you delete stubborn files from Windows Computer. The main cache is that it is compatible with only Windows XP. Wise Force Deleter is also available to delete the locked files.