Most probably WhatsApp is the most popular app for Android smartphone for chatting. Finally, WhatsApp developers have made official launch for desktop too. Now, you can run WhatsApp in Windows 10 and Windows 8 desktop, meaning Windows 10 and Windows 8 / 8.1 users can now use WhatsApp on Windows desktop without having to open a web browser.
WhatsApp is improved version of WhatsApp Web.
WhatsApp for Windows desktop software is fast and responsive unlike the WhatsApp for Web. But, you still need to have an active internet connection on your smartphone in order to send and receive messages/photos/videos/audios on your Windows desktop, that is really annoying.
If you see on another side of this app, then it is very good for those like me who are spending the most times in Windows PC, as you can read and reply to WhatsApp messages without touching your smartphone provided that your smartphone is also connected to the web.
If you're excited about WhatsApp for Windows desktop, then complete the below instructions to download and install WhatsApp on Windows 10 desktop in under five minutes.
Note : WhatsApp is available for both 64-bit and 32-bit – Windows 10 and Windows 8 / 8.1. There is a separate download link for both 32-bit and 64-bit operating systems. There is a download link for Mac OS X 10.9 and higher are also available.
How to instal WhatsApp desktop on Windows 10 / 8 / 8.1 PC?
1. Head over to the official download link and download the setup file (about 62 MB).
2. Double-click on the installer file to launch the setup to see the following screen with a QR code.
3. Now connect your smartphone to the internet and launch WhatsApp.
4. On your phone, open the WhatsApp app, tap Settings (iPhone) or Menu (Windows Phone & Android), and then tap WhatsApp Web option to open the QR code scanner.
5. On WhatApp (smartphone) touch "Ok. Got it".
6. Now rear camera of the smartphone will be activated.
7. Focus the camera on QR code of desktop WhatApp.
8. Now, the WhatsApp app on your phone will send the scanned information to WhatsApp servers, and your WhatsApp program on Windows 10 desktop should now show your recent messages.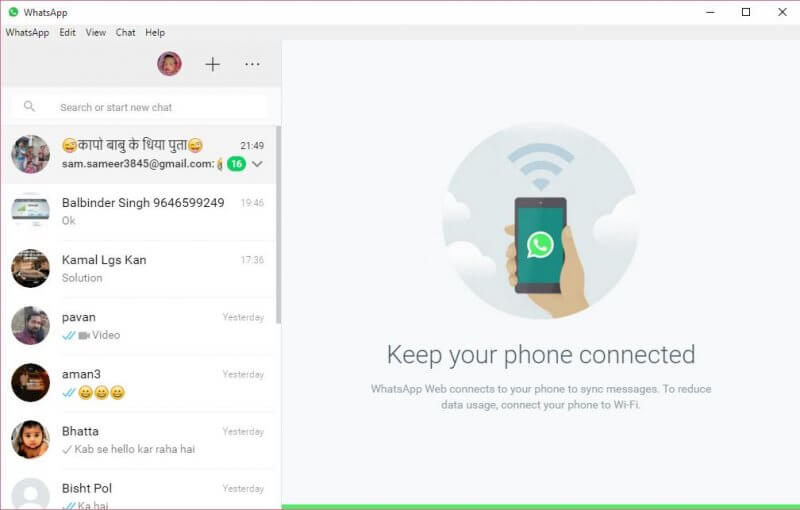 After installing the WhatsApp on your Windows computer, if you are not happy, then you can uninstall with recommended method.
Read: How to install and what to expect from Google Allo?