Huawei has recently launched B593 4G LTE CPE Router in different countries with different network. In India it has been launched by Airtel as 4G LTE indoor wifi router gateway – Multi-mode B593. You can get B593s-22 from tele2, B593u-12 from Zain. You can also find this device in Belgium by Proximus, B2000 by Vodafone, B593u-91 by Mobily, B593-12 by Viva, in Canada by Telus, in Sweden by Tele2.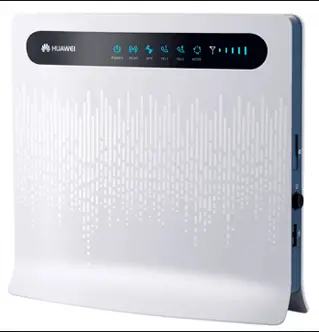 There are so many another network providers has launched B593 of various sub-models :
HUAWEI B593u-12: LTE FDD 800/900/1800/2100/2600MHz
HUAWEI B593s-82: TDD 2300/2600MHz
HUAWEI B593u-91: LTE TDD 2300/2600MHz
HUAWEI B593s-42
HUAWEI B593u-501
HUAWEI B593u-513
The B593 4G LTE router / gateway lets you take advantage of the fastest speeds. The device has 4 LAN ports, 2 RJ11 ports for telephones so you can make calls with your sim card and surf the web at the same time. You can share the connection with the built in WiFi access point and share your printer and USB hard disks with the office or family.
The main Features and Specifications of Huawei B593 4G LTE CPE Router are :
4G/LTE : 1800/900/2100/2600Mhz
3G : HSPA/UMTS 900/2100MHz
2G : EDGE 850/900/1800/1900 MHz
Falls back to DC-HSPA+ outside LTE coverage area, peak download speed up to 42Mbps
In LTE mode download speed up to 100Mbps and upload speed up to 50Mbps
Dimension : 190mm x 35mm x 176mm,
Weight : 500g
Wifi 802.11 /b/g/n (Connects up to 32 Wi-Fi enabled devices)
Supported Operating System : Windows XP / Vista / Windows 7 / Windows 8 /Windows 8.1 as well as Mac OS
2x Telephone ports (to use with land line phone)
4x 10/100 LAN ports
2x USB ports
Unlocking is possible of B593. Unlock code charge is only 2.38$. First make sure described steps are sufficient to unlock your device. If satisfied then pay 2.38$ for router code through paypal button and mention, model, network and IMEI in transaction.
Interested users can download the firmware and software update of Huawei B593.