Huawei E1553 is not so famous as E303 and E3131 broadband modems. E1553 dongle had been launched earlier. If you are using E1553 dongle locked to a particular network. Then, its time to unlock your E1553 modem for free. After unlock there will be no barrier of network, means you can use any another network provider as well as default sim. To  unlock your Huawei E1553 dongle you need to update / change / replace the firmware of your data card. Firmware update file (E1553 Update  11.609.18.00.00.B418) for E1553 dongle can be downloaded from the download link which is provided at the end of the article.

Some details you may get about your E1553 :
Found modem : E1553
Model : Huawei E1553
IMEI : 354************
Serial NR. : C04CAA1972007091
Firmware : 11.608.12.02.21
Compile date / time : Jun 19 2009 16:04:43
Hardware ver. : CD6ATCPU
Dashboard version : UTPS11.002.03.32.100_MAC11.110.02.22.100
Chipset : Qualcomm MSM6246
NAND Flash : Hynix_HYC0UEL0MF3R
Voice feature : enabled
SIM Lock status : Cardlock
Wrong codes entered : 0 (unlock attempts left : 10)
How to update the firmware of Huawei E1553 Broadband Modem :
1. Download universal master code , Huawei modem code writer tool and firmware update of E1553 dongle.
2. Run the universal master code tool and go to Huawei tab.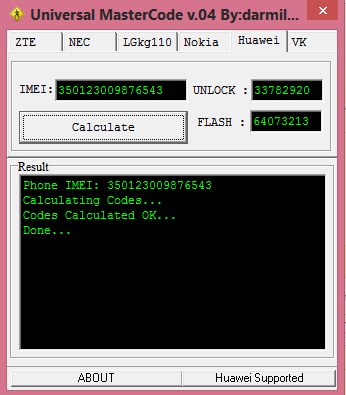 3. Enter your 15 digit IMEI and click on Calculate.
4. Now you will get Unlock Code (NCK Code) and Flash code as in above screenshot.
5. Note down both Unlock and Flash code.
6. Plug the E1553 to Windows PC and let it run the default software (Huawei Mobile Partner).
7. Now disconnect the internet and close the software of E1553.
8. Run the firmware update file which you have already downloaded.
9. It will search your modem Port.
10. Click on Next and accept the agreement.
11. When it ask for Password then use Flash code as password.
12. Wait till finish wizard.
13. Now your modem firmware has been successfully updated.
How to unlock Huawei E1553 Broadband Data Card :
1. After the firmware update, run the Huawei modem code writer tool, which you have already downloaded.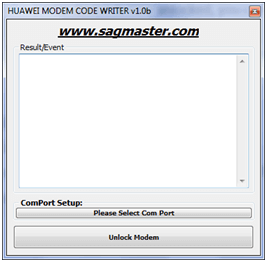 2. Now click on "Please Select Com Port".
3. It will detect your modem com port.
4. Now click on "Unlock Modem" button.
5. It will ask you "8 digit unlock code".
6. Enter the unlock code / NCK which you have already noted down.
7. Now your E1553 is unlocked forever.
8. Now download latest Huawei mobile partner software v 23.009.09.02.910 and update your dongle.
9. Now change the default sim with another network sim.
10. Create the profile with Correct APN as per network provider sim.
11. Now connect to internet and enjoy.