Windows PC in kiosk industry, manned or unmanned, is always exposed to various threats such as theft and damage. Apart from the damage, you may be hacked through these kiosk terminals. FrontFace Lockdown Tool is a freeware app that can protect effectively from these kiosk machines. This is free for Windows users and comes quite handy.
Why you need FrontFace Lockdown software for kiosk PC?
As above said, the PC in the kiosk may expose physical as well as electronic threats. In fact, a white paper published by McAfee mentions that a kiosk machine can be highly vulnerable to hacking; as a hacker can use this PC to access the control panel and possibly steal important information about your business.
To avoid hacking or any damage, it is necessary to install some kind of lockdown app so that can protect the PC. It can not fully block, but can limit the security access and permissions for users.
FrontFace Lockdown Tool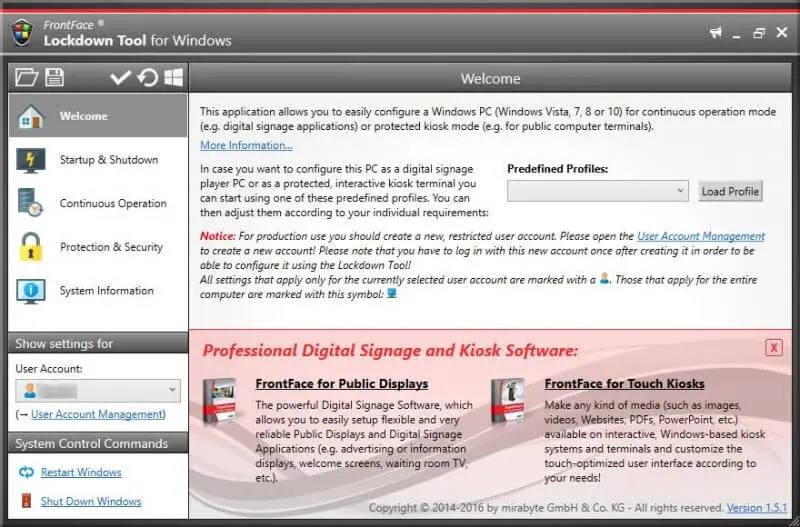 It is only 2 MB in size, but yet too effective Windows based utility. This software is designed for the system administrators to prepare the lock down Windows-based PCs for use as public kiosk terminals or digital signage applications.
Features of FrontFace Lockdown
Automatic login at boot time
Starts dedicated application instead of the normal Windows Explorer
Deactivate the Ctrl+Alt+Del shortcut and the Windows Task Manager
Screen saver and power management settings
Security and protection options can be easily configured
The FrontFace Lockdown Tool is a portable app and lets you run without installation. The custom configuration profiles of the tool are exportable and can be reused on different PCs. The app also offers a 'Kiosk Mode' that protects public-facing PCs against unauthorized access.
One can also configure Windows PCs for 24/7 unattended and continuous operation. In continuous operation mode, you can configure the PC for activation of the high-performance energy profile (disables standby mode), disable the "turn screen black" feature, disable the screensaver, disabling automatic Windows Updates, set the background color of the Desktop to black, disable Autorun/Autoplay, disable WPF hardware acceleration, mute any audio output, mute any Windows system sounds, disable Windows Error reporting, etc.
For protection and lockdown, this app supports enabling of the Windows Firewall, locking the Windows & task manager, preventing from changing the password, disable common features such as "lock", "shutdown", "Log off", "reboot" or changing the current user, disable the Windows system tray, disabling the Windows key on the keyboard as well as the Ctrl+Alt+Del keyboard shortcut.
You can download the FrontFace Lockdown Tool from here.
You might be interested in Ghostpress freeware app that is an Anti-Keylogger for Windows computer.