Firefox team is working on WebRTC feature to include in next release, the Firefox Hello. It will allow users to communicate with your friends and family who might not have the same video chat service, software or hardware as you. It's free to make voice and video calls and there's no need to download software, plugins or even create an account. It's ready to go as soon as you open Firefox Beta by clicking on the 'chat bubble' icon under the customize menu.
WebRTC (Web Real-Time Communication) is an API definition drafted by the World Wide Web Consortium (W3C) that supports browser-to-browser applications for voice calling, video chat, and P2P file sharing without plugins.
The best part of the Firefox Hello is it allows you to connect with anyone who has a WebRTC-enabled browser, such as Firefox, Chrome or Opera.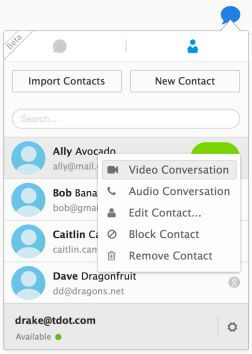 One of the great features of Firefox Hello is that you don't need to create an account in order to connect with the people that matter to you most. You simply share a callback link with the person you want to connect with and when they click on the link the call begins.
Firefox Hello also allows you to one-click calling, but you need to create account. After signing in, you can initiate or receive direct calls with other Firefox Account users, without having to share a callback link first. You can sign into your Firefox Account on every computer you use.
Firefox also includes contacts management to add contacts to your address book manually or import contacts from your Google account to Firefox Hello. Simply select 'Import Contacts' from the address book and then sign into your Google account to give permission. If your contacts have a Firefox Account and are online, then you can call these contacts directly from Firefox.
The Firefox team says that these features will be rolling out over the next few weeks to all Firefox Beta users.