Huawei New Algo IMEI, I mean the 86 series IMEI unlock code is a big challenge for the users who need it free because no one website provides the free unlock code of New Algo Huawei modems. On every website, I am trying to find out the free unlock code for the 86 series IMEI then it asks for money. In recent days, we got a person named Nirav Soni, who provides an unlock code generator for free for only one day. We have generated codes and provided many users with free unlock codes. Recently, fr3nsis has released a tool, and its name is Huawei 2012 Unlocker (c) fr3nsis, as you can see in the screenshot below.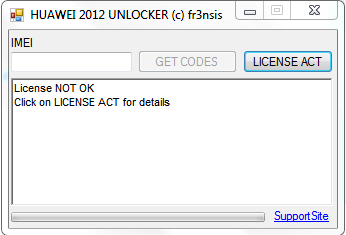 With the help of the Huawei 2012 Unlocker (c) fr3nsis tool (Huawei 2012 Modem Unlocker), you can now calculate codes (new and old Algo) for your modem using the windows application. The only catch is that it is not free and will now cost 20€, and after paying that much, you can only generate 20 codes per day. Interested users can download the tool from the link which is provided at the end of the article. The activation price is 20€, and payments can be made via PayPal; and after paying, you will get the activation code, and after that, you will be able to generate the unlock code for your Huawei modem free.
Users who want to buy and activate a license can click on "LICENSE ACT" after the running tool.
Just click on the LINK as above in the screenshot, make payment via PayPal, buy the license activation, and you will get the License Activation code via email. Just put the activation code in the box below and click on an ACTIVATE NOW button, and your software will be activated for generating the unlock code.
Users interested in buying the said tool, wait; I will soon provide the free tool.
Download Huawei 2012 Modem Unlocker by fr3nsis (Link removed because it's not supported anymore)