DC Unlocker is a famous group of modem, router, and phone unlocking. It supports unlocking of almost all types of modems and phones eg: Huawei modems, Amoi, Huawei phones, Longcheer, Maxon, Micromax, MyWave, Novatel, Onda, Option, Pantech, Sierra Wireless, skype phone, Toshiba, ZTE modems & phones. Recently DC Unlocker team has launched DC-unlocker client software v1.00.0913.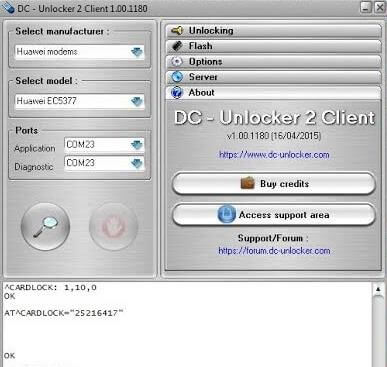 In DC-unlocker client software V1.00.0913 team has added supports for the following:
Modems :
Huawei E157
Huawei E3526 HiLink
Customized modems:
ZTE MF170 BD_BEELINEP679M1V1.0.0B02 Jul 20 2010 15:47:23 (Beeline Russia)
Huawei E173 11.126.16.04.787 Jul 18 2011 16:09:24 (Tigo Tanzania)
Routers:
Huawei B115
Novatel MiFi3352
Novatel MiFi3352
Phones:
Huawei Neo3100
Huawei FP615H
Added repair damaged security data feature for almost all supported Huawei phones.
In DC-unlocker client software V1.00.0913 the following repair feature has been solved:
No network after unlock
SIM Lock status: unknown (read failed)
SIM Lock status: unlocked (but phone asks for code)
No difference how security data was damaged, it can be repaired without backup.