Life network provider of Belarus has launched a Hi-link wingle which works as a router, dubbed as Huawei E8231.
Detailed info about Huawei E8231 Life (Belarus):
Interface: 192.168.8.1
Found modem: E8231
Model: Huawei E8231
IMEI: 8628*************
Serial NR. : Z9XBY1442***********
Firmware: 22.618.01.00.546
Hardware ver. : CH1E8231SM
Web UI version: 15.100.05.02.546
SIM-Lock Status: Locked (CardLock)
Wrong Codes Entered: 0 (unlock attempts left: 10)
As you can see from the above details, Huawei E8231 Life comes with un-customized firmware version 22.618.01.00.546 and is connected to the internet through IP address 192.168.8.1.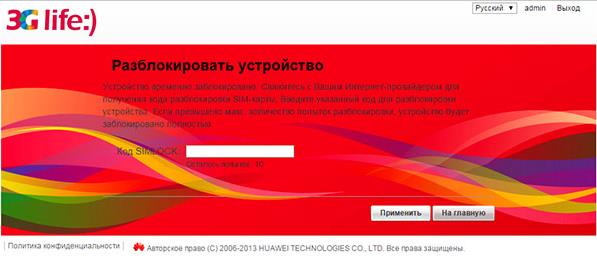 How to Unlock USB Wi-Fi Router Huawei E8231 Life (Belarus)?
1. Insert a non-acceptable (other than default) SIM card into the Huawei E8231 Life modem and plug it into the PC.
2. Let it install the drivers and software required by the data-card to run it properly.
3. Now, it will automatically open the default browser, asking you for an unlock code. If not open it automatically, then open internet explorer and browse for
4. Enter the correct unlock code in E8231 and enjoy the all network provider SIM.
Note: Don't try to insert wrong codes into your Huawei E8231 Life (Belarus) data card; otherwise, it will be locked permanently.