Many users keep downloading different look Huawei Mobile Dashboard, but have you ever wanted to know that how to create your own Huawei Mobile Dashboard with custom image? Yes, I will give full tutorial to make/create/modify Huawei Mobile Partner dashboard. It is totally free, means there is no charge. There is no technical knowledge is required to create or modify Huawei Mobile Dashboard. Only you need one tool that is called
WinRar
.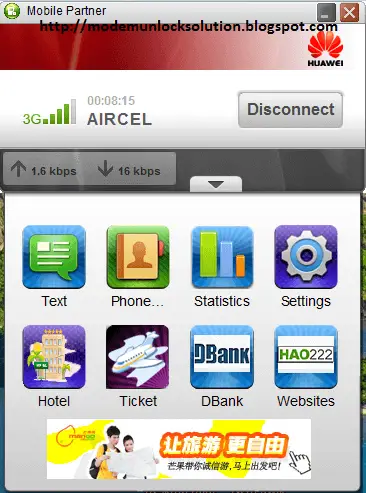 Copy Huawei mobile partner software in a folder on your PC/laptop. In my example you can see the screenshot:
You will have at least two files in your folder: data and setup. Forget about all another file and concentrate on data file only. Everything you have to do in your data.bin file (data file extension is .bin).
How to change or modify Huawei Mobile Partner Dashboard?

1. Open WinRAR software and navigate to your Huawei folder which you have created.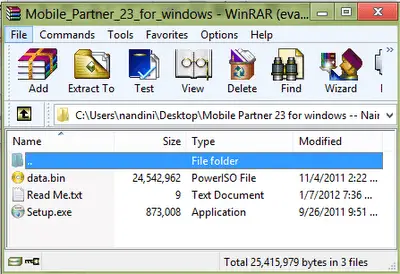 2. Now double click on data.bin file to open it using WinRAR.
3. Now select both file and drag all files from the WinRAR to the parent folder.
4. Here you can change, whatever changes you want. Modify everything, which you need.
Suppose, if you want to change the skin, then just open skin folder and do the necessary changes in images.
Note: Before changing any image make sure to note down the name, extension, and size of the image file. You should replace that image with same size, name, and extension. Otherwise, it may not work properly.
5. Select the image to whom you want to change as per your choice. As you can see the first image of my article, we have changed the image of default skin of mobile partner. I have written my website name on the top of default skin of Huawei Mobile Partner.
6. After doing the necessary changes, when you are satisfied then delete all data.bin file from your folder.
7. Now you have a folder named common and file SysConfig.dat which you have extracted from data.bin. Now we have to put it back on data.bin file. For this follow the next step.
8. Now close the WinRAR software and navigate to the custom Huawei folder where you have file SysConfig.dat and folder common.
9. Select common folder and SysConfig.dat file both at a time with the help of ctrl key and right click on it and click on Add to achieve…
10. Now delete the selected part (in my example Mobile_Partner_23_for_windows.rar) and put the name as data.bin and click on OK button.
11. Now its will create a data.bin file which is the part of your dashboard.
12. After all the process you will get a data.bin file.
13. Now your custom dashboard is ready for use in your computer.
14. If you want to install at your computer then just double click on setup and follow the on screen window.
15. You can also replace your modem default dashboard with custom dashboard, you have to take the help of Huawei Dashboard Tool V0.0.0.8.
That's all. Enjoy!!!