I had previously written about a new gadget Alcatel One Touch Y800. Alcatel One Touch Link W800 4G WiFi Router is also approximately same like Alcatel One Touch Y800 USB router. Alcatel W800 WiFi USB router creates a WiFi zone with high-speed 4G Internet connectivity. You can download any file with blazing fast 100 Mbps, whereas maximum upload speed limit is 50 Mbps. Alcatel one touch link W800 is not only a 4G LTE USB  dongle, but it transforms into a portable WiFi hotspot through the use of two sets of accessories. The W800 router allowing up to 10 users to simultaneously stay connected online.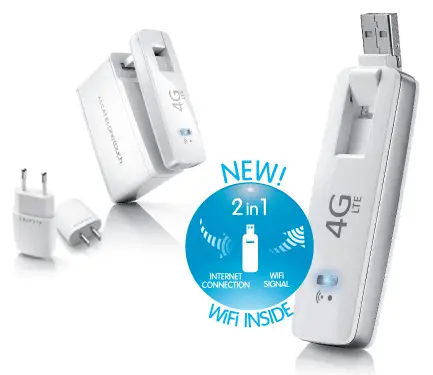 Alcatel One Touch Link W800 4G WiFi router supports 4G LTE network, 10 WiFi connections,  download speed up to 100 Mbps as well as upload speed 50 Mbps, which is equal to Vodafone R210 product.
WiFi Multi Power Kit is the accessory set dedicated to indoor connection,  The WiFi Multi Power Kit includes one car power supply and a slim wall power supply. By simply plugging the Internet key into the power supply, the device is able to spread the WiFi signal in the car, at home, in the office.
With its 5200 mAh battery, the power bank lasts one whole working day (up to 8 hours life). Users simply insert the Internet key into the power bank, to enjoy a powerful high-speed connection while on the go.
The key features and specifications of Alcatel One Touch Link W800 4G USB Wi-Fi Router:
1. Device Type : LTE Mobile WiFi / WiFi LTE Internet key
2. Platform : Qualcomm MDM9215 + AR6003G
3. LTE Network : Downlink up to 100 Mbps / Uplink up to 50 Mbps
4. WiFi : 802.11 b/g/n; WiFi data transmission speed up to 75 Mbps
5. Mass Storage : 2Gb NAND FLASH + 1Gb LPDDR
6. Network modes : FDD-LTE, DC-HSPA+, HSDPA, HSUPA, UMTS, EDGE, GRPS
7. OTG function : up to 10 WiFi users
8. External Interfaces : USB (2.0 High Speed), Micro SD (up to 32GB), 1 USIM/SIM slot
9. Dimensions : 89 x 27.5 x 14 mm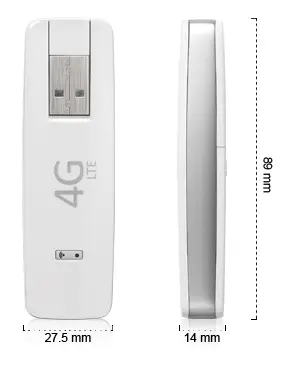 10. Weight : 35 grams
11. Bands available :
B (LTE : 1800/2600MHz; 3G:900/2100MHz)
Z (LTE : 800/900/1800/2600MHz; 3G: 900/1800/2100MHz)
O (LTE : 700/850/AWS/1900/2100/2600MHz; 3G: 850/AWS/1900/2100MHz)
You might be interested in Huawei E8221 and E8231 mobile WiFi Wingle, which features are alike Alcatel One Touch Link W800 4G WiFi Router. If you are planning to purchase then for better prices search online to get in cheaper rates.
Alcatel W800 is not unlockable yet as it does not accept the NCK code.
The idea, Airtel, and Vodafone have launched Alcatel Link Zone MW40CJ devices in India. It can not be unlocked, however the device is asking for SIMlock code after changing the SIM card.