Telus carrier of Canada has launched Huawei E372 dongle. It comes with customised firmware and it can not be unlocked with the help of only SIMlock code. It needs to be flashed the modem before unlocking it.
Requirements to Unlock Telus E372 Dongle
1. Download firmware E372 Update 11.203.13.00.00.


How to Unlock Telus Huawei E372 Modem?
1. Note down the IMEI of the device.
2. Run universal master code tool.
3. Go to Huawei tab and generate the flash code for your IMEI.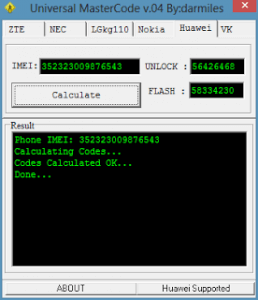 4. Now run the firmware version 11.203.13.00.00 of E372.
5. It will ask you password.
6. Input the firmware code and proceed further.
7. Wait till firmware finish.
8. Now change the default SIM card with any another network provider.
9. Connect to PC.
10. Run the Cardlock unlock tool.
11. Detect the device under it.
12. When it will show the IMEI of your device, then enter the 8-digit unlock code in the text box.
13. Click "OK"
14. Once correct code entered, device will be unlocked forever.
15. Now install the latest Huawei Mobile Partner in your Windows PC.
16. Create a new profile according to the new SIM card and connect to the internet.
Note:: For getting the correct unlock code of E372 device, comment below the model, IMEI and country. It will be updated within 8 hrs.