Windows 10 comes a default antivirus, the Windows Defender, that helps protect your Windows operating system as well as data from common threats like viruses, spyware, malware etc. By default, if you have not changed the setting of Windows Defender, it automatically downloads antivirus definitions from Microsoft servers when any new updates are available. Microsoft releases new definitions every day through Windows Update service, so, better keep in automatic mode to secured over the internet.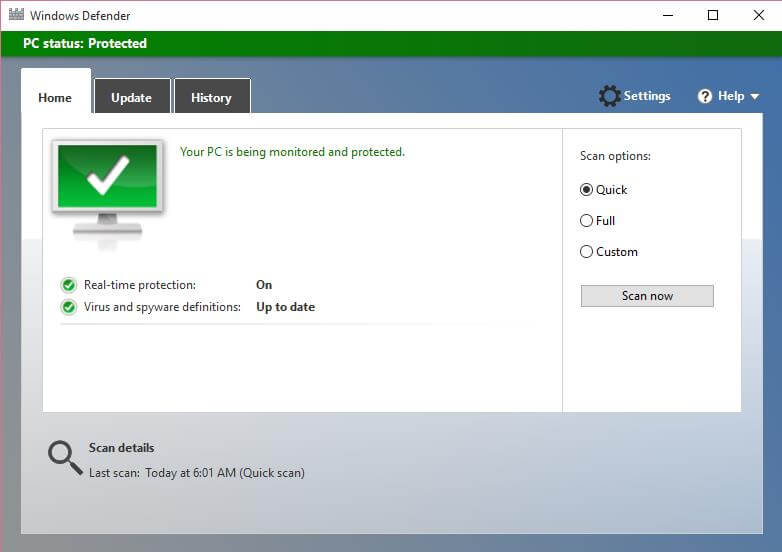 Many of us turn off automatic Windows Update and some of us like of update it manually. If you have turned off Windows Update service in Windows 10 and now want to manually update Windows Defender in Windows 10, then it is possible.
One has to download Windows Defender updates from Microsoft server and then run the update in Windows 10 to update Windows Defender.
How to manually update Windows Defender In Windows 10, 8 & 7?
Note: This method is also useful in offline updating of Windows 10 PC.
1. Before downloading Defender definition updates, open Windows Defender program using Start > search, and then check the current version and installed date of definition.
2. Launch the Windows Defender.
3. Click on Update tab and note down the last time updates were installed. Note down definitions last updated and virus & spyware definition version before proceeding further.
4. If the definition updates were installed less than a day ago, then you don't need to update it again. You have already latest definition installed.
If you have older date definition updates, then proceed with next steps.
5. Visit the official page of Microsoft and scroll down the page to see definition updates for Windows Defender for Windows 10, Windows 8 and Windows 7.
You will get separate update file links for x86 and x64 types of Windows 10. Click the download link next to Windows Defender in Windows 10 and Windows 8.1.
6. Once the update is downloaded to your PC, just double-click on the update file to begin updating Windows Defender.
Note : You will not see any window or dialog box during the process.
It is also recommended to read, "How to start Windows defender manually in Windows 10?".