After long times Windows starts giving you major problems, you can always use system restore and even you can boot into Windows 10 from a bootable DVD or USB. Without any media, you cannot install fresh OS or reinstall Windows. But with a freeware software WintoHDD, it is possible to install Windows without DVD or a USB drive. Basically, the WinToHDD takes the advantage of the ISO image of your respective Windows and allows us to install that on our machine. You don't have to create any bootable USB drive or CD/DVD for Windows installation.
How to Reinstall Windows without DVD or USB disk?
As above described the WinToHDD makes you able to install Windows without DVD or USB drive. It also provides the facility to reinstall Windows or clone your entire system using the same tool. This free tool is very easy to use and comes with simple user interface. It is very helpful when you don't have any third-party media and failed to create such bootable drive.
1. Launch the WinToHDD on your Windows PC.
2. Click "Reinstall Windows".
3. Locate the image file of Windows 10 / 8 / 7.
Note: Make sure that you are choosing the same ISO file, which is installed currently in your PC. This tool also shows the architecture or the bit of the chosen Windows version (x64 or x86).
4. Click Next to see the following screen:
5. Click here "Next" to create a WinPE image.
Confirm by clicking on Yes and sit back for few moments. The tool will create the respective WinPE image.
It will restart the PC and you are ready to reinstall the Windows accordingly.
How to install Windows without DVD or USB drive?
As mentioned above the WinToHDD allows you to reinstall Windows without DVD or USB drive. It is also possible to install a fresh Windows OS using the same software – but in a different partition. You cannot dual-boot in the same partition. Therefore, create a new partition for your new Windows installation and follow accordingly.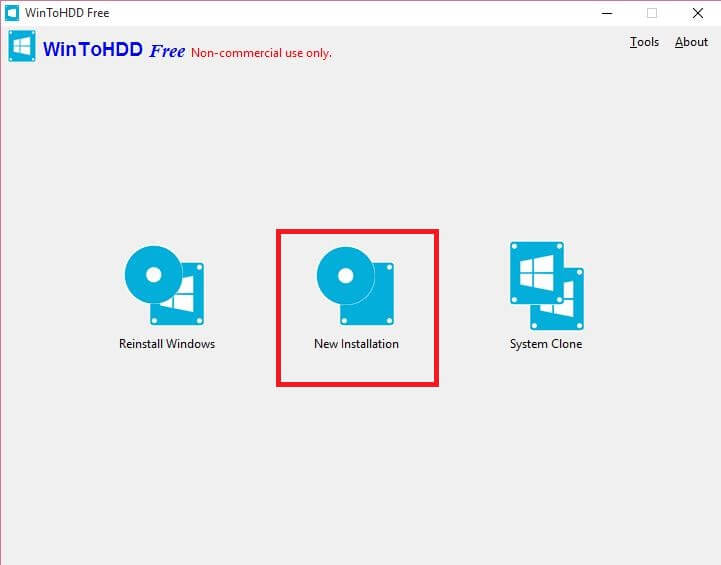 For a fresh installation of Windows, click "New Installation", locate the ISO image of Windows and select the partition where you want to install your Windows.
This tool will do setup everything for you. While restarting, you have to go to BIOS settings and select Hard Disk as your default boot source.
Clone the Windows system using WintoHDD
Last and the time-consuming option is Cloning of the system. If you want to move the Operating System from one drive to another drive. At such times, this tool will help you a lot as it makes it possible to clone your system.
From the main screen of the WinToHDD select the System Clone and click Next button. Choose the partition, where you want to clone your system and the tool will carry out rest for you. You can download WinToHDD from here.