I have already shared unlocking solution of Huawei E5531 WiFi MiFi Mobile Router. Today, I will about E5531 features and specifications as well as my reviews. Presently, Huawei E5531 MiFi router is only available in 3 stores. 3 (Tre) network is very popular in the UK and it has launched till now various models locked to Three (3) network in the market. Huawei E5531 is a new, high-speed Mobile Wi-Fi device – the E5531 Value MiFi – which will be the cheapest mobile Wi-Fi device in the UK to feature next generation HSPA+ mobile broadband technology. There is good news from Three, "Three is aiming to have 80% of its network upgraded to HSPA+ by the end of this year, with the rest following soon afterward".Huawei E5531 is a 3G mobile wifi router and its highest download speed on HSDPA data service up to 21.6 Mbps, whereas in HSUPA data service it can upload the data up to 5.76 Mbps. Apart from the 3G, it supports 5 Wi-Fi gadgets at a time, means you can share your internet with 5 WIFI enabled devices at a time.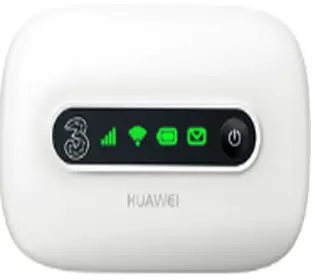 You can see the video of Huawei E5531 released by 3 network:
An OLED screen of E5531 displaying key information like the amount of data used, speed of the current connection and length of browsing time, and a new look dashboard for viewing SMS and changing settings. In addition, a new feature allows users to see their Wi-Fi user name and password on screen at the touch of a button for fast pairing with new gadgets.
The key features and specifications of Huawei E5531 WiFi MiFi Mobile Router :
Pocket sized – take it anywhere.
Connect your Wi-Fi iPad, laptop or games console at the press of a button.
Create your own secure Wi-Fi hotspot wherever you need it.
Share your connection with friends, family, or workmates. Or Keep it all to yourself!
Connects up to 5 Wi-Fi gadgets at the same time.
Use Mobile Wi-Fi to connect your Wi-Fi laptop anytime. Just press and connect.
HSPA+/UMTS 850/900/1900/2100MHz,
GSM/GPRS/EDGE 850/900/1800/1900 MHz
HSDPA data service of up to 21.6 Mbps
HSUPA data service of up to 5.76 Mbps
Windows XP SP3, Windows Vista SP1/SP2, Windows 7, Mac OS X 10.5, 10.6 and 10.7 with latest upgrades
If you leave the WiFi sharing features of Huawei E5531 WiFi MiFi Mobile Router, then it is just equal to Huawei E3276 Hilink dongle.