Users who are looking for a software to unlock Huawei modem, for those there is a great news. Recently, we have got a tool its name is Arvie Unlocker 1.0 which can do all work for you like: can calculate Unlock Code, can validate IMEI, can write code to your modem or can send NCK code to your Huawei modem. Even this software can send unlock code into your modem without prompting or inserting other network's SIM card.
How to Use Arvie Unlocker?
1. Download Arvie Unlocker Huawei 3 in 1 (Calculator, Validator & CodeWriter).
2. Run the software (You need .Net Fremwork installed in your PC to run this tool).
3. Fill the top of the column with the IMEI number of the Huawei modem then click on the green tick mark.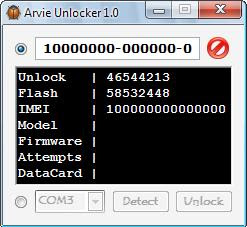 4. You can switch COM port by clicking on the bottom options.
5. Select the COM port that is used for the modem.
6. Click the Detect button.
7. Click Unlock. button.
Now the  device will be unlocked to use with any another network provider SIM card as well as the default.