Does your PC have too many broken shortcuts? I know, it is very difficult task for you to remove them one by one. It is always a good idea to scan and remove broken shortcuts regularly, but for this we have to take the help of a third-party tool.
How broken shortcuts are generated?
When you install a software, it generally creates a shortcut on the desktop. While uninstalling, good programs remove the shortcut also in uninstalling process. But, suppose you are unable to uninstall it properly and you have deleted the program from its installation folder, then it will be still on your Desktop, but it will be broken and there is no use of it. There are other ways like deleted or uninstalled programs, deleted bookmarks, moved files or folders to another place, then once-valid shortcuts may point to now non-existent files. Such shortcuts are called bad or invalid or broken shortcuts, and one should fix or remove them.
How to Remove Broken Shortcuts?
Here are some freeware tools that can help remove broken shortcuts in Windows.
Fix It
Fix It tool comes from Microsoft which is used to fix broken desktop shortcuts and common system maintenance tasks.
It fixes the following:
Problems with desktop shortcuts and icons
Shortcuts on the desktop don't work or are broken
Desktop icons are broken or have not been used in 3 months
Startup items don't work or are broken
System maintenance tasks
Free up disk space by repairing disk volume errors such as bad sectors, lost clusters, cross-linked files, and directory errors
Free up disk space by removing error reports and troubleshooting history older than 1 month
Set the correct system time and synchronize system clock with the time server
You receive the following errors:
Windows update error 0x80072F8F
The item that this shortcut refers to has been deleted
It is compatible with Windows 7, Windows Server 2008, Windows Server 2008 R2 and Windows Vista. You can download Fix It from here.
Bad Shortcut Killer
Bad Shortcut Killer is a freeware that scans your Windows start menu, jump lists, desktop, and fix or deletes them with ease. To fix the broken shortcuts, run Bad Shortcut Killer and click on the 'Find Bad Shortcuts' button. The tool will scan your PC for invalid shortcuts and will present a list of broken shortcuts. Click "Check All" to select all and then click 'Delete Selected Shortcuts' button. The broken or invalid shortcuts will be deleted.
It can do the following:
It searches Start Menu, Desktop, Jump Lists, and Startup Folder for invalid shortcuts.
It removes invalid shortcuts.
It makes start menu tidy quick and easy
It helps to keep invalid shortcuts off of your start menu and your desktop
Bad Shortcut Killer is compatible with Windows XP, Windows Vista, Windows 7 and Windows 8. 64bit and 32bit versions. You can download this freeware from here.
Broken Shortcut Fixer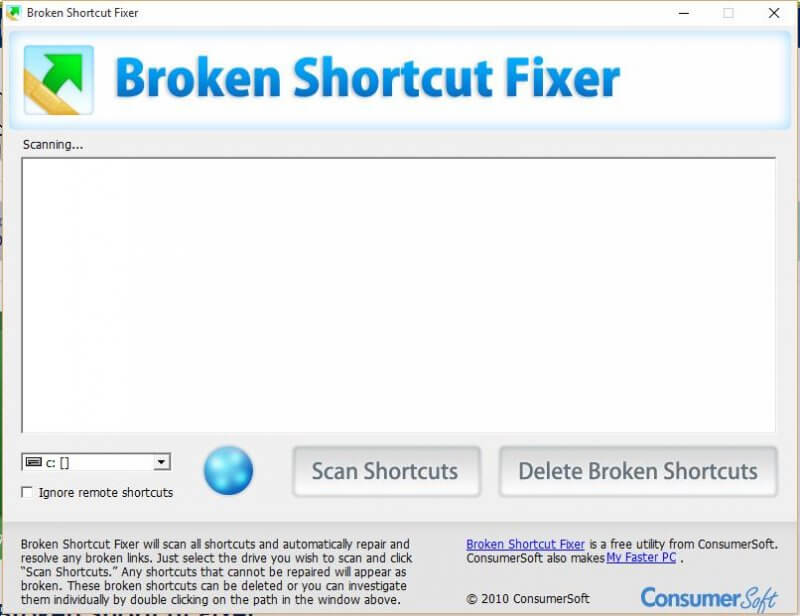 Broken Shortcut Fixer is another freeware that scans your Windows computer for broken shortcuts and repair or deletes the broken shortcuts.
Just download the Broken Shortcut Fixer and click on 'Scan Shortcuts', once the list is presented, click on 'Delete Borken Shortcuts' to fix it. You can also double-click on broken shortcuts to view them in Windows or hover over a broken shortcut to see the broken path. "Delete Broken Shortcuts" will send the selected shortcuts to the Recycle Bin.
Broken Shortcut Fixer is a portable freeware which with Windows XP, Vista, Win 7 / 8 / 8.1 / 10., and can be downloaded from its Softpedia.