If you want to run your PC / laptop error free, then you must have updated drivers. Drivers play an important role in your PC, and without it, you can't imagine anything. In most cases, you don't need to update the device drivers, if it is working fine. One does not need to update device drivers if the hardware is working fine. But, it is always recommended to update the drivers of hardware's, since it comes with security updates. That's why you need a professional driver manager, and is already better if you get a free copy.
Snappy Driver Installer may be the right choice for your need as it is free of cost, can install and update drivers on your Windows PC. It can install the drivers on your PC, which is assembled, or updated or changed the hardware. Means, you have not to worry about the drivers, once you installed Snappy Driver Installer.
If is available offline also, which size is more than 12 GB. The developer has compiled all drivers of many hardware's in a single file. Means, you can download and keep it on your PC, if you are playing with hardware or have a shop of PC's or repair the PC / laptop. If you are a home user like me, then you can go for the online version of this Snappy Driver Installer software. This tool will be automatically updated whenever an update is available. It has various language support as well as inbuilt themes. It is also available in the portable format, means there is no installation is required. You can carry it in USB-disk / CD.
How to update the drivers online using Snappy Driver Installer?
Download Snappy Driver Installer.
2. Run the Exe file (there are separate files for 32-bit and 64-bit are available).
3. Accept the Agreement and allow Firewall access.
4. This tool will automatically scan your PC and will show the details if any update is available.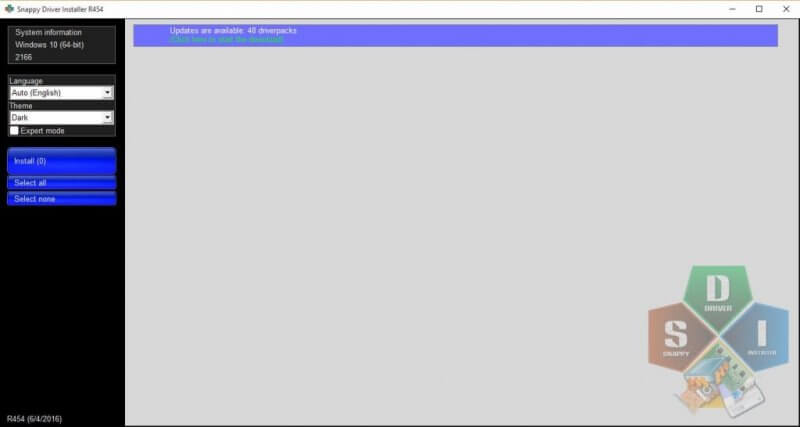 5. Click on top where you will find written something like "Updates are available:…..".
6. A new window will present the details about driverpack, size, percentage, and For this PC?
Here you can notice that all the drivers which are listed are not for your PC and under "For this PC?", you will find written 'No'.
Manually checking one by one is time-consuming.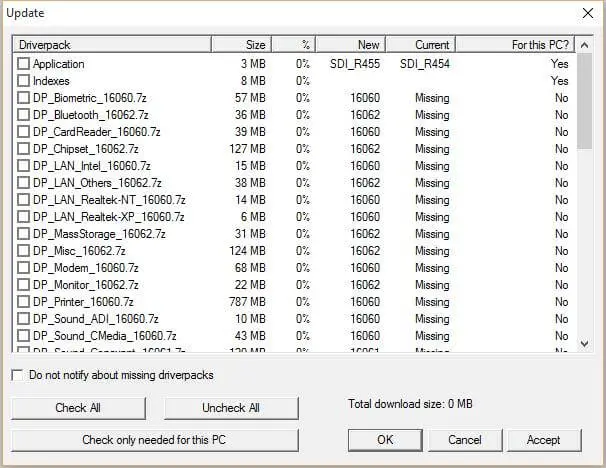 7. Click "Check only needed for this PC".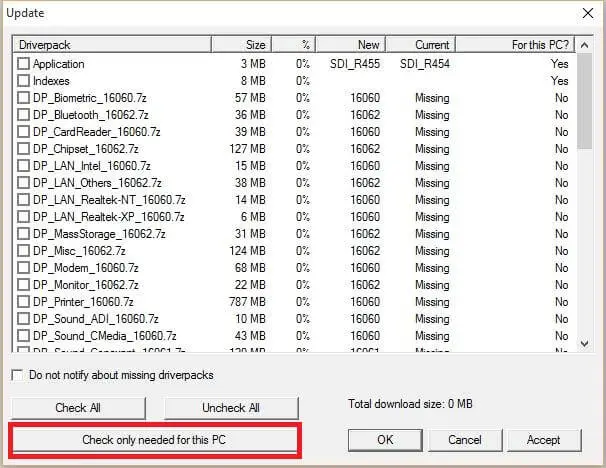 8. Click Accept then OK.
9. Now selected driver packs will be downloaded and installed on your computer.
Overall, the Snappy Driver Installer is an excellent tool that will help you to keep your PC hardware updated. It is compatible with Windows XP / 2000 / Vista / Win 7 / Win 8 / Win 10 and all Windows Server Editions.