Huawei Unlock Tool V2.4.3.0 is a great portable free software to unlock your Huawei modem totally free. It can not only unlock your Huawei dongles for free but it is able to reset unlock counter from 10 to 0. It is especially beneficial for those people who have entered 10 wrong attempts in home of unlocking and now lost all the hope. All huawei devices supports only 10 attempts to unlock. Once 10 times wrong codes entered in the device, it unlocking counter gets reduced to 0 and you can't try with any code. This tool is totally free to use and has been created by Malinda Prasad and team specially for Huawei modems.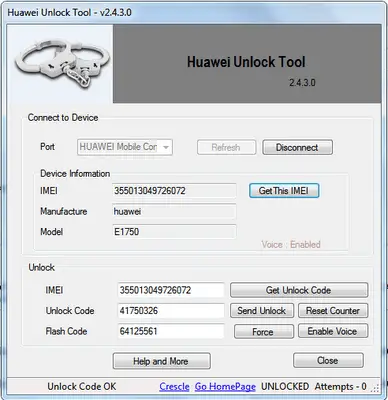 Interested users can download this tool from the link which is provided at the end of the article.
How to Unlock Huawei Modem and Reset its counter from 10 to 0?
1. Connect your non customized Huawei modem to computer / laptop and let it install all the drivers and run the dashboard of modem.
2. Now disconnect the internet and close the dashboard of the dongle.
3. Run the "Huawei Unlock Tool" and click on Refresh button and after that click on Connect button on the right side of the Refresh button.
4. Now your Huawei modem will be connected to Huawei Unlock Tool V2.4.3.0.
5. Now click on Get This IMEI button and it will display your modem IMEI, Manufacturer, and Model.
6. Click on Get Unlock Code button to generate Unlock Code and Flash Code for your modem.
7. To unlock the modem, simply press Send Unlock button and your modem will be unlocked.
8. Users who want to reset his unlock counter from 10 to 0 just press Reset Counter button.
9. If your modem does not accept then just press Force button.
10. Users who have disabled the Voice feature by mistake can enable by pressing Enable Voice button.
This is a great and so much beautiful tool for Huawei 35 series IMEI to generate unlock code, flash code, unlock Huawei modem, reset counter from 10 to 0. Users who are searching for unlocking tool must use this tool. I am sure this tool will replace the Huawei Modem By Bojs V5.8.1 very soon in feature.