Huawei Modem Unlocker by Clubs v1.2 is a beautiful tool to unlock your huawei modems for free. It can calculate the correct code for almost all 35-series IMEI Huawei device.
Huawei Modem Unlocker by Clubs v1.2 supports
[Huawei]
E156
E155
E1550
E1552
E156G
E160
E160G
E161
E166
E169
E169G
E170
E172
E176
E1762
E180
E182E
E196
E226
E270
E271
E272
E510
E612
E618
E620
E630
E630+
E660
E660A
E800
E870
E880
EG162
E880
EG162
EG162G
EG602
EG602G
[Vodafone]
K2540
K3515
K3520
K3565
K3520
K3565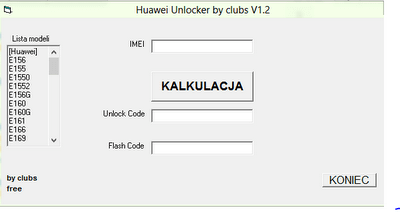 One can unlock above-mentioned modems very easily by changing the default SIM with any another network provider. Just generate the Unlock and Flash code by putting IMEI of your modem into the IMEI box and click on KALKULACJA button. It will generate the Unlock and Flash Code for your modem. Just note down the Unlock code. Now change the default SIM card of your modem from any another network provider SIM card. Insert in your computer/laptop. Now your modem will ask you for the password. Just provide the above mentioned unlock code as password and click on OK button to make it universal. Now you can use any SIM card from around the world.