Like AeroAdmin, Anydesk is also a free software that let you connect remotely to another PC desktop. It supports unattended access, doesn't require installation, can transfer files, and works without having to configure a router. It offers tabbed browsing and hidden menus that make AnyDesk very easy to use.
AnyDesk works with Linux, Windows 10, Windows 8, Windows 7, and Windows XP operating systems. It syncs clipboard contents across the host and client computer means if a client has copied something, then the host can paste in his PC.
The AnyDesk is portable by default but you can install it like a regular program if you like. During an active remote connection, various settings are easily accessible from the menu bar. It can alter the connection to create the best possible video quality, speed, or balance between the two.
You can also customize the other things, like showing the remote cursor, transmitting sound, disabling control for view-only, turning off clipboard syncing, blocking the other user's input, and taking a screenshot.
As above mentioned, files also can be transferred with AnyDesk by copying them to the clipboard and then pasting them to the remote PC. For easy access, you can also create a connection shortcut to the Desktop.
You can also rename any connection to remember it easily. It also displays the user account image as the identification when requesting to connect to another computer. All the keyboard shortcuts can be sent to a remote computer, even Ctrl-Alt-Del.
AnyDesk is free for personal use. It has clean and uncluttered interface. Also, it is only 1.5 MB in size, which is very small.
AnyDesk tool can run in fullscreen mode and also includes text chat capabilities.
AnyDesk is similar to other remote desktop programs, like TeamViewer and AeroAdmin. It also uses an ID number to make establishing a connection easy. If you will install AnyDesk in PC, instead of just run it portably, you will be provided with an AnyDesk-ID, which is created automatically and based on the name of the computer (like CellCute@Ad) instead of on numbers.
When both the host and client computer are running AnyDesk, they can share the AnyDesk-Address with the other and enter it in the "Remote Desk" part of the program to start the connection.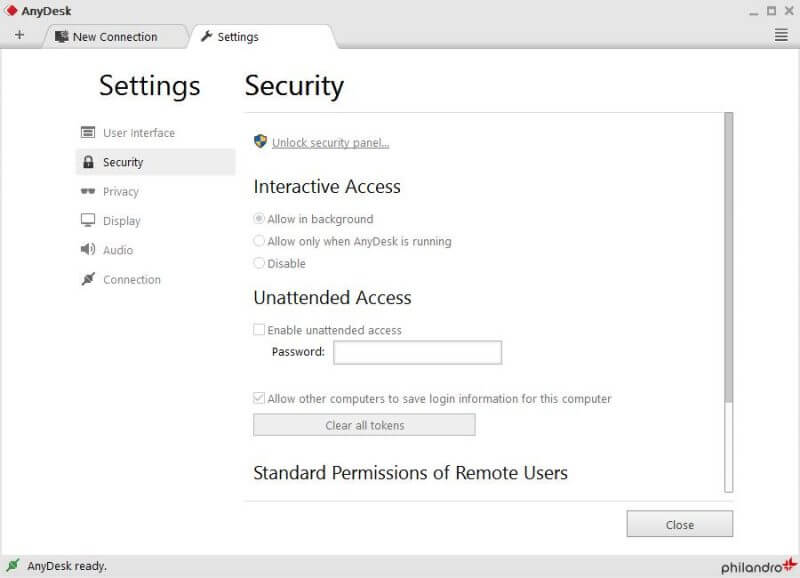 You need to set up a password in the settings to enable unattended access. It also allows you to define the permissions remote users are given when they connect to you. You can give permission to view the monitor, hear the sound of the computer, control the keyboard and mouse, access the clipboard, and lock the user's keyboard and mouse input. You can download AnyDesk from here.